In today's trending, a replica of a famous Paris landmark is going up in Hebei province, a school in Guangdong province is testing whether meditation is better than a tradition nap for the little ones, some subway cars in Guangzhou are altered to fit more riders at rush hour and a young woman taking photos on a leafy track forces a train to stop – twice.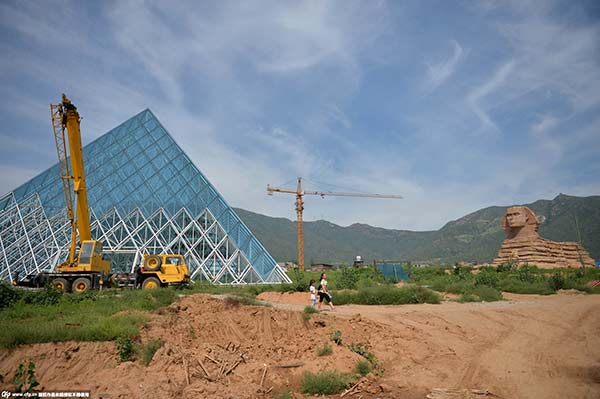 A replica of the glass pyramid at the Louvre Museum replica (left) is being built at a film base in Shijiazhuang, North China's Hebei province, Sept 3, 2015. [Photo/CFP]
Sphinx replica gets neighbors
Miniatures of the world famous glass pyramid at the Louvre Museum and the Temple of Heaven are being built near a copy of the Sphinx on the outskirts of Shijiazhuang, Hebei province, chinafotopress reported.
The Temple of Heaven replica is to the right of the Sphinx and the Louvre is to the left.
The 60 meter-by 20 meter Sphinx became an Internet hit when construction was completed last year.
The replicas belong to a film base, which charges a 10 yuan ($1.57) admission fee to enter and another 10 yuan if one wants to go inside the Sphinx's interior.
In our next story, meditation gives way to traditional naps at a primary school in Guangdong province.