In today's trending, a drone delivers a college offer, a bus in Hangzhou gets into the Qixi spirit, a child's leg is trapped under a tire and a woman scorned throws a wild tantrum on a Hong Kong street.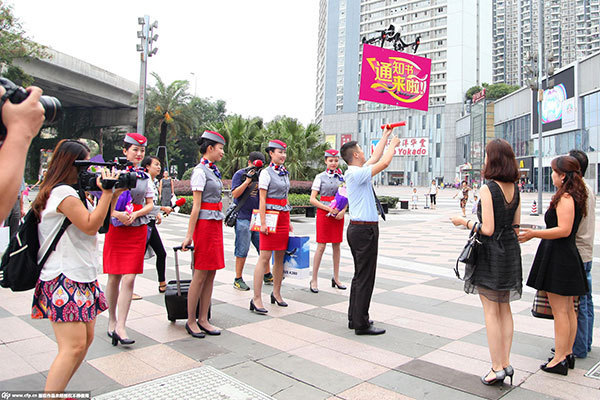 A drone delivers a college offer to Zhao Liqian (third from right) at Wanda Square in Chengdu, Sichuan province, Aug 18, 2015. [Photo/CFP]
Drone delivers college offer to student
University offers delivered by mail may now be out of date, a novel invention masterminded by a student from Sichuan Southwest Vocational College of Civil Aviation (SVCCA) has proved, local news portal scnews.newssc.org reported.
The first offer from SVCCA was delivered by an unmanned aerial vehicle, or drone, in Chengdu, Southwest China's Sichuan province, on Tuesday, reportedly the first of its kind in the world.
Zhao Liqian was informed of her college offer from SVCCA at a downtown square in Chengdu .
Zhao said she was surprised by the unexpected delivery system but thought it was cool and that the experience felt like something out of a movie.
Lei Jiahui, the mastermind of the drone delivery and also the operator, said he got the inspiration from Chinese singer Wang Feng, who proposed to actress Zhang Ziyi by deploying one.
Zhang Lin, SVCCA's admission office chief, said the school was supportive after hearing Lei's suggestion.
"It is a good opportunity to encourage innovation and entrepreneurship from students as well," Zhang said.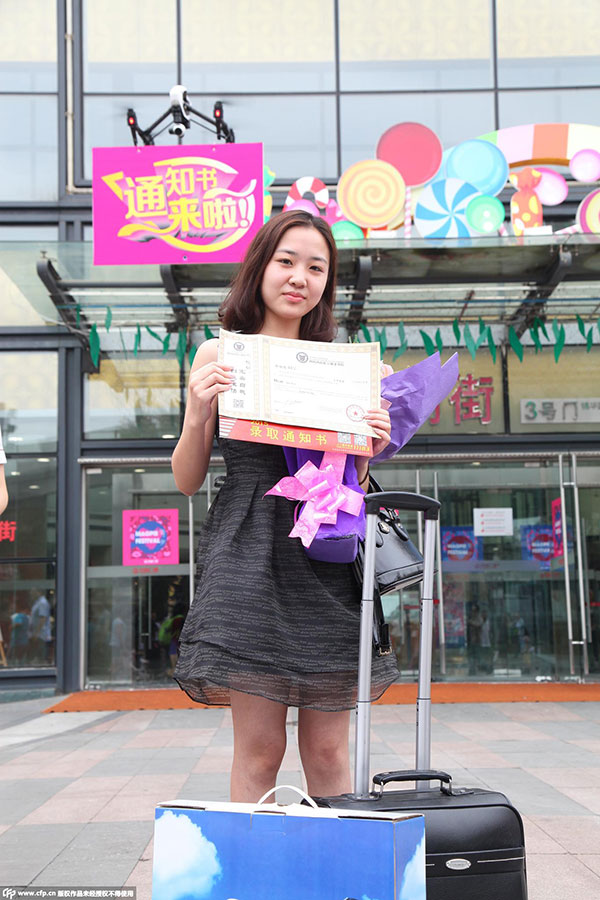 Zhao Liqian poses with her college offer. [Photo/CFP]