In today's trending in China, we bring you the mystery of the missing ashes in Jilin province, a very generous security guard, old ladies busting out into a flash mob at an airport and more.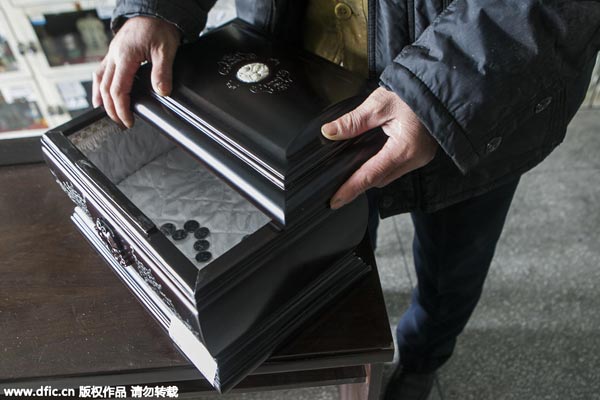 Jin Yuming shows off the coins that were left in the box where his father's cremation urn was held, April 2, 2015. [Photo/IC]
Bone ash goes missing from funeral parlor
Jin Yuming and his family members did not get a chance to pay their respects to their decreased father in the upcoming Tomb-sweeping Day as his father's ashes went missing while under the custody of a local funeral parlor, chinayouth.cn reported on Friday.
Jin, a middle-aged man from Changchun city of Northeast China's Jilin province, deposited the ashes in the city's funeral parlor after his father's body was cremated and put into a cremation urn on Feb 25, 2013.
He noticed a minor change in the cylinder of the urn during last year's Tomb-Sweeping holiday on April 6, 2014 and opened the container to find a few coins left inside instead of his father's ashes.
He had since turned to the funeral parlor for the bizarre disappearance before he reported the case to local police and civil administration departments. He has yet to receive an answer to the mystery of his father's ashes.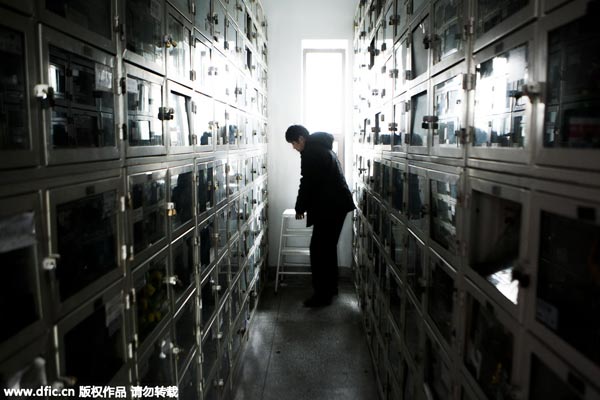 Jin Yuming at the Changchun funeral parlor, April 2, 2015. [Photo/IC]
Up next, passengers, mostly old ladies, find a new way to fight off boredom at the airport.