In today's trending, man makes mini Eiffel Tower for girlfriend, 70-year-old 'Spiderman' climbs walls backwards, police cars caught for illegal parking, and couple bathes under public fountain.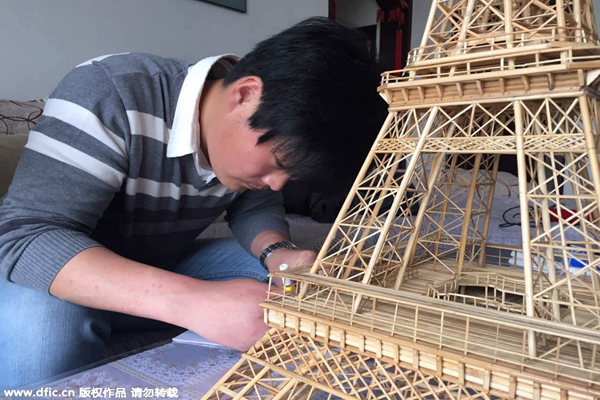 The model Eiffel Tower Xie has built.[Photo/IC]
Man makes bamboo Eiffel Tower
More than a century after the Eiffel Tower was erected, a man in Central China's Henan province has made a model of the Paris landmark with bamboo sticks, reported zynews.com.
The man, surnamed Xie, built the model Eiffel Tower as a gift to his girlfriend. The meter-tall construction took the man, who majored in architecture, more than a month to build, using over 200 bamboo sticks.
The unique gift made a splash on the Internet, as many expressed envy for the lucky girl. Some praised the tower as "a romantic gift created by a tech geek". But there were also cynics who said, "A model Eiffel Tower may be cool, but it's nothing compared to taking your girlfriend to see the real Tower in Paris."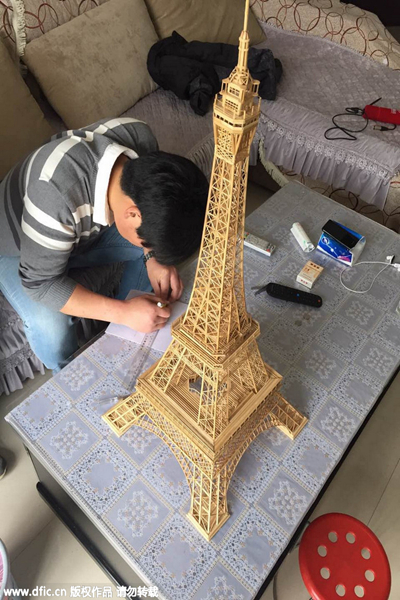 The model Eiffel Tower Xie has built.[Photo/IC]