In today's installment of Trending News across China, we bring you a story of a nurse turned comic book artist, a farmer couple that discovered ancient coins, the possible coming of a female Chinese Allen Iverson and more.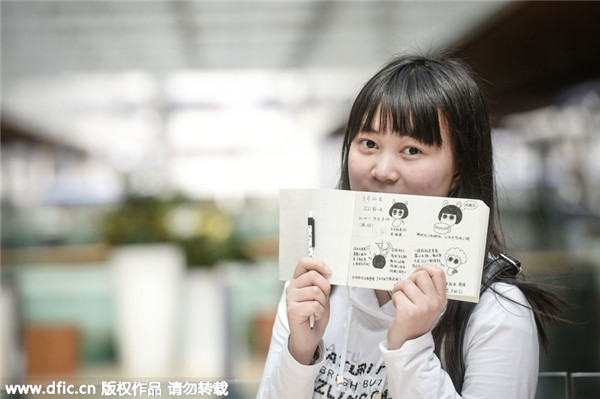 He Xuan, a nursing student who recorded her internship in comics, shows off her internship report in Southwest China's Chongqing municipality, March 26, 2015. [Photo/IC]
Nursing student records internship with comics
Writing boring internship reports is one way to go through an internship, but one nursing student in Chongqing has found a way to bring new life by recording her internship with her own way, local newspaper Chongqing Evening News reported.
Twenty-year-old He Xuan, a nursing student from Chongqing Medical University, started her internship in July of last year at a hospital in Chongqing's Jiangbei district. To record her time as a intern, she drew all her experiences at the hospital into a comic.
"The life of a nurse turns out to be one which I never imagined, so I wanted to record it," said He, "The strongest feeling is touching partings in the lives of people."

Twenty-year-old nursing student He Xuan recorded her time as a nurse in training in the form of a comic. [Photo/IC]