ZURICH - FIFA's ethics watchdog has opened formal proceedings against Colombia's Miguel Trujillo after he pleaded guilty last month in US federal court to four counts, including conspiracy to commit money-laundering and conspiracy to commit wire fraud.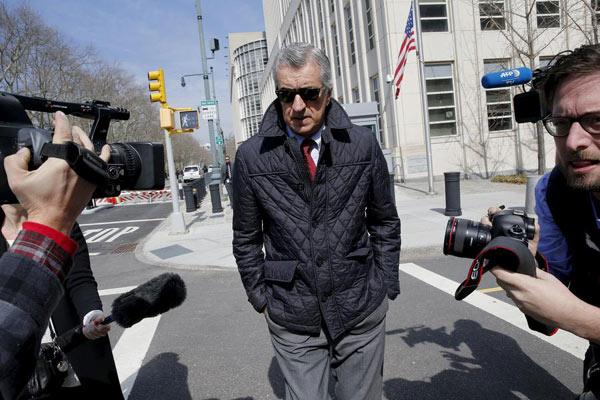 Miguel Trujillo, a Florida-based sports marketing consultant who pleaded guilty in a U.S. court on Tuesday as part of an investigation of corruption in soccer and FIFA, its world governing body, leaves federal court in the Brooklyn borough of New York March 8, 2016. [Photo/Agencies]
"Having examined all of the relevant evidence and based on Miguel Trujillo's guilty plea before the federal court in New York, the investigatory chamber has opened formal proceedings against Mr Trujillo," the investigatory body of FIFA's ethics committee said in a statement on Wednesday.
"As a licensed FIFA match agent, he was bound by the FIFA Code of Ethics."
It will investigate payments from Trujillo to several soccer officials, the investigatory chamber said.
Last month Trujillo, who also admitted to filing a false tax return, agreed to forfeit $495,000. He was released on a $1.5 million bond and said: "I know that what I was doing was wrong."
Trujillo, who lives in Florida, is among 42 individuals and entities charged as part of a U.S. investigation into more than $200 million in bribes and kickbacks sought by soccer officials for marketing and broadcast rights to tournaments and matches.
On Tuesday new FIFA president Gianni Infantino denied any wrongdoing after the Panama Papers revealed that, when he was working for UEFA 10 years ago, he signed off on a TV rights deal with a south American company controlled by two Argentines who were later indicted in the United States.