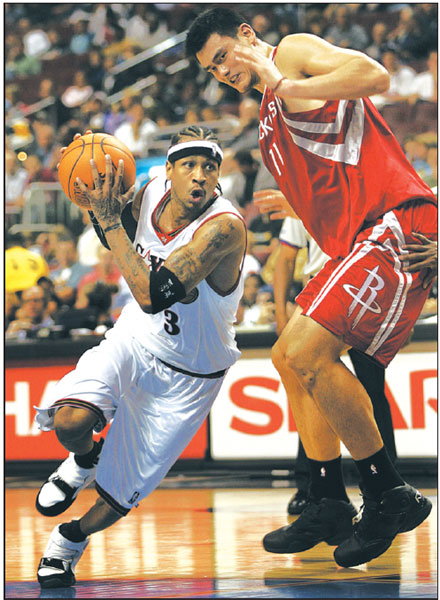 Allen Iverson of the Philadelphia 76ers drives past Houston Rockets' Yao Ming during a 2005 game. Iverson, Yao, Shaquille O'Neal, Tom Izzo, Sheryl Swoopes and Jerry Reinsdorf were announced on Monday as 2016 inductees into the Basketball Hall of Fame. Rusty Kennedy / Associated Press File Photo
Yao, Iverson, Shaq top list of inductees into Hall of Fame
The Basketball Hall of Fame's class of 2016 is very impressive: Yao Ming, Allen Iverson, Shaquille O'Neal, Sheryl Swoopes, Tom Izzo and Jerry Reinsdorf.
And if there's a class clown, it would be the affable Iverson, who knows he still won't be able to shake his infamous rant about practice.
"I'm in the Hall of Fame and I can go outside today and go to a restaurant or whatever and somebody will say to me: 'Practice? We talking about practice?" Iverson said with a laugh on Monday.
He admitted even his children mock him for the 2002 news conference that saw him repeat the phrase about 20 times.
"Man, I'm a Hall of Famer and that's all you can think about - me saying 'practice'."
Posthumous honorees this year include 27-year NBA referee Darell Garretson; John McLendon, the first African-American coach in a professional league; Cumberland Posey, who also is in the Baseball Hall of Fame; and Zelmo Beaty, who led Prairie View to an NAIA title in 1962.
First overall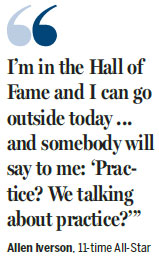 Iverson, selected by the Philadelphia 76ers with the first overall pick in the 1996 NBA draft, was named rookie of the year and went on to become an 11-time All-Star.
John Thompson, his coach at Georgetown, was there to celebrate the latest honor with his former player.
"I'm proud of knowing him as a person and knowing the challenges he's had to overcome," Thompson said.
"Allen is legitimate. There's a lot of impersonators of what he is. But he is a kid who came from basically nothing and had to be thrust into a whole different way of life and been successful as he has been in his profession."
Iverson was asked to reminisce on the impressive dunking he did in his career despite being only 6-feet tall.
"I can't even touch the backboard now," the 40-year-old said. "I ain't lying. I can't even touch the backboard. It's over."