"On behalf of NBA China, I would like to congratulate Yao Ming on his induction into the Naismith Memorial Basketball Hall of Fame. Known to his legions of fans as the 'Walking Great Wall', Yao competed with passion, integrity and extraordinary work ethic every time he stepped onto the court. With eight All-Star selections, he was among the most dominant centers ever to play the game and one of the best international players in NBA history. His induction is a testament to his impact on the globalization of our game. We look forward to continuing to work with him to grow the game of basketball in China."
David Shoemaker, NBA China CEO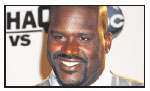 "The first time we met (Jan 18, 2003), he blocked my shots like seven times while I didn't know who he was. He is actually the first guy who turned around and looked me in the eye and shot a jumper right in my face. Yao, I want to say congratulations to you and congratulations to China. You definitely deserve it. You are a great player, a great ambassador to the game and a great friend."
Shaquille O'Neal, 15-time NBA All-Star center

"I am so happy that Yao Ming is getting a just honor and being inducted into the Hall of Fame. He was a first-class player who had his career cut short by injury but he was the most outstanding player you could ever hope to coach. He's a great leader and a great teammate. He has every single intangible you needed on the team, so for Yao to get inducted like this means that people have recognized his greatness. It's a great thing for Yao and for the Houston Rockets."
Jeff van Gundy, Houston Rockets head coach, 2003-07

"Yao has been a symbol, reminding people of China, Chinese basketball and the whole generation born in the 1980s. For me, Yao has been the most important figure in my sports journalism career, inspiring me to be a basketball reporter covering the Rockets and the NBA for 12 years. Yao has always been great in fulfilling many obligations to promote the game, but for me he is a great player in the first place."
Wang Meng, basketball reporter for Titan Sports

"I am very happy for Yao, he deserves it. He's done a lot for the league. He is so talented. It's sad that his career was cut short by injuries. But I am happy for him, he deserves to have that type of recognition."
Paul Gasol, Chicago Bulls All-Star cente