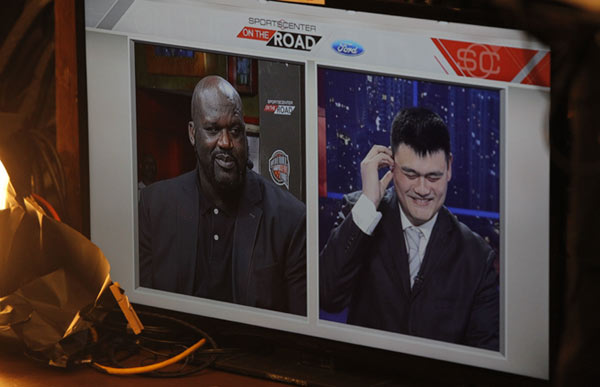 Newly elected Naismith Memorial Basketball Hall of Fame member Yao Ming from China (right) gives a video interview during a conference announcing his induction in Houston, April 4, 2016. Ten former NBA players, including Shaquille O'Neal and Allen Iverson, were introduced to the 2016 Class. The former Houston Rockets star center and eight-time All-Star now runs Shanghai Sharks of CBA and is involved in a cluster of world-known charity missions. According to NBA China CEO David Shoemaker, Yao is one of the most dominant centers and most extraordinary internationals in NBA history. [Photo/Xinhua]
Despite a relatively short playing career, retired star Yao Ming has been elected a basketball hall of famer for his role in helping to spread the NBA's popularity to China.
Although ending his injury-plagued NBA career without a championship ring, Yao's towering contribution to promoting basketball globally has helped him to land the biggest individual honor in the game.
He has been enshrined in the Naismith Memorial Basketball Hall of Fame together with other NBA legends including Shaquille O'Neal and Allen Iverson.
"I feel very honored to be part of this list, which also includes Shaq, Al and other great guys in basketball history," said Yao, 35, who retired in 2011 after a series of foot injuries.
"I didn't have a long career in the NBA, but I appreciate people giving me the chance to be inducted."
Yao will be honored in September at a ceremony in Springfield, Massachusetts, home of the Naismith Memorial Basketball Hall of Fame.
After joining the NBA in 2002 as the overall No 1 draft pick by the Houston Rockets, Yao played with the team for nine years, averaging 19 points, 9.2 rebounds and 1.9 blocks per game. He was voted a league All Star eight times.
However, he could not propel the Rockets any further than the semifinals of the Western Conference playoffs in 2009.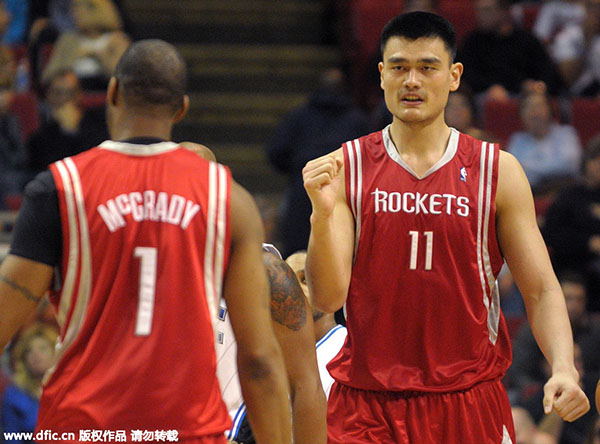 Then Houston Rockets center Yao Ming (11) celebrates with teammate Tracy McGrady (1) late in the second half of an NBA basketball game against the Orlando Magic in Orlando, Fla., in this Nov 22, 2008 file photo. The Rockets won 100-95.  [Photo/IC]