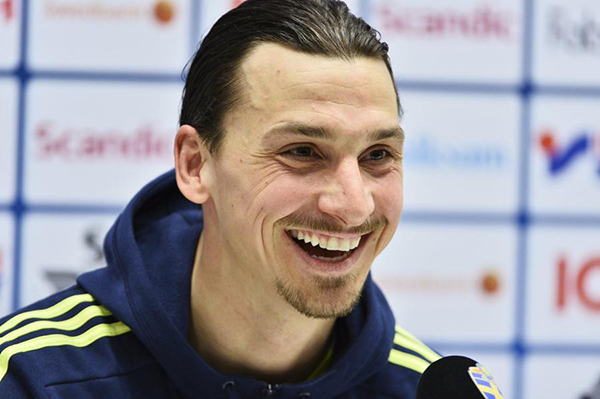 Swedish national soccer player Zlatan Ibrahimovic smiles during a press conference at Friends Arena in Stockholm, Sweden, on March 27, 2016, ahead of Tuesday's friendly soccer match against Czech Republic. [Photo/Agencies]
Sweden captain Zlatan Ibrahimovic hinted on Sunday at a move to the Premier League and promised big things to come in his career.
Speaking to reporters after a training session at the Friends Arena, where Sweden face the Czech Republic in a friendly on Tuesday, the 34-year-old was open about his future after Paris St Germain.
"I've had four fantastic years with them," he said, adding that there were no ongoing talks with the French champions about an extension to a contract that expires at the end of the season.
"The relationship I have with them is only positive. They have done everything they could for me and my family."
Available on a free transfer and linked to Manchester United, Ibrahimovic said there had been interest from Premier League clubs.
"Yes, there is an interest, I can confirm that. We have to see where it leads. When the moment comes, when all the cards are on the table, that's when I have to go through what I want, and then we'll see who wants it more," he said.
"It's like a marriage. Two parties have to want it, not one or the other. Each side needs to want it as much as the other."
Having already secured the French title, PSG face Manchester City in the quarter-finals of the Champions League. After the club season finishes. the striker's attention will turn to leading Sweden at the Euro 2016 finals in France.
"A lot of big things will happen this summer. Have a little patience and you will have things to write about. The future looks very good," said Ibrahimovic.
The Swede had been linked to a move to Major League Soccer earlier in the season but his scintillating form has opened up other possibilities, including the possibility of playing for Sweden at the Rio Olympics in August as an over-age player.
He has scored 35 goals in 40 games for PSG so far this season, and scored three of Sweden's four goals in a 4-2 aggregate win over nordic neighbours Denmark that saw his side secure their spot at Euro 2016.
"If I'd had a bad season I wouldn't have had the options I have today," he said. "Now it's the opposite and I have a lot of options. It's looking good; the Euros, after the Euros. Then we have the Olympics too."