China Daily website is inviting you to share Chengdu Story with us! and here are some points that we hope will help contributors:
My name is Richard Deutl,originally from Austria, having worked for Starwood Hotels & Resorts for 28 years and almost 10 years in China and proud to serve as General Manager of The St. Regis Chengdu which opened on 4th of September 2014, exactly 110 years after the first St. Regis New York.
My professional career led me through seven countries and twelve different cities, four out of which in China. Chengdu fascinates me the most with its rich history and dynamic culture. I am in my fourth year here and yet still have so much to explore in this city. I specially love the leisurely and slower paced life style of Chengdu people. Being able to go jogging along the Fu Nan River in the early morning or through one of the numerous parks helps me to ease my mind from work and allow my body to meditate and relax.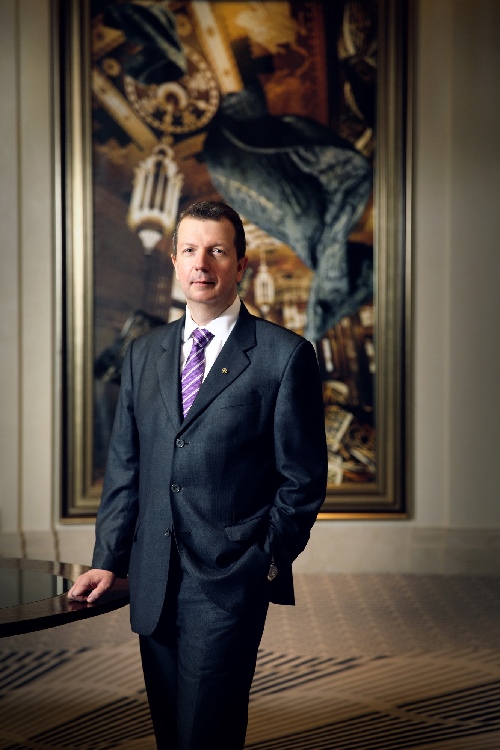 Richard Deutl,General Manager of The St. Regis Chengdu.
The people here also know their way to enjoy a quality life that is where it matches the St Regis's core value-- Being unyielding in the pursuit of excellence and delivering signature and highly personalized service. I often invite my friends to celebrate the evening with the St Regis traditional ritual--Champagne sabering and just simply enjoy the night chatting with each other, preferably in our Decanter Wine Bar or at our Vantage XXVII with its amazing view over the city and cool jazzy and DJ music.
Chengdu is famous for its local cuisine and its delicious spiciness, as a foreigner I found the food here is not just to be spicy, but each dish is unique and flavorful, has its own story of when it was invented and by who; traditions mean a lot in Chengdu as well as at St. Regis Hotels & Resorts. My favorite cocktailis the "Sichuan Mary" which is the local version of the famed St Regis signature cocktail "Bloody Mary" which was invented in 1937. It is made from Sichuan pepper and dried chili which is the two main spices of the local's favorite, and mixed with Vodka and fresh homemade cherry tomato juice, it really gives you a unique palate tantalizing sensation; something found nowhere else in the world and worthy a city that in 2010 was nominated as first Asian City of Gastronomy by UNESCO.
Chengdu from a luxury point of view is much advanced as compared to other cities in China; an unprecedented concentration of luxury brands, most dynamic luxury real-estate development outside the megacities advocate the special "savoir vivre" that Chengdu are known for; despite other cities with their vast amount of expats, I would consider Chengdu the most European city of all because of the above.
It is this difference to other cities that fascinates me the most and I consider Chengdu as my home away from home, something I have not been able to say from any other city I have been living at. I trust Chengdu and I will be together for quite a while still.
The author is the General Manager of The St. Regis Chengdu.
The opinions expressed do not represent the views of the China Daily website.
[Please click here to read more My Chengdu Story. You are welcome to share your Chengdu stories with China Daily website readers. Please send your story to chengdu2016@chinadaily.com.cn]