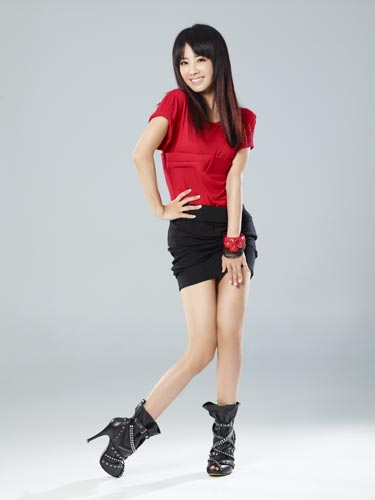 Jolin Tsai: "If singers like Faye Wong are God-made talent, then I'm Earth-made." Provided to China Daily
Glamour and groove are all that matters at a Jolin Tsai concert. From wavy blonde hair and deep red lipstick (a la 1940s movie stars) to pure ballerina in white skirt trailing a rhythmic gymnastics ribbon, her ever-changing looks draw as much attention as the music. Her tours are always a big dress-up event for the young people who fill the arenas.
In her upcoming Beijing concert on Sept 15, the 33-year-old singer from Taiwan will present her dramatic costumes and perform her hits from past decades and new songs from an upcoming album (her 12th), titled Muse, which will be released a day before the concert.
"I consider my concert stage as a catwalk," says big-eyed Tsai, who was the No 2 earner among Taiwan singers in 2010 and 2011 behind Jay Chou. "I care about the dresses, the makeup and the high heels. I want to change costumes for every song if possible."
Her love for changing styles has grown with her music development.
Tsai first started her singing career by taking part in an MTV singing competition at Taiwan at 18. She won the top prize at the competition with her rendition of Whitney Houston's Greatest Love of All. Then the record company positioned her as the girl next door - sweet and happy.
Her debut album, Jolin 1019, was an instant hit, selling more than 400,000 copies in Asia, which earned her a nickname "teenage boy killer". After a few albums with the good-girl image, which sold well, Tsai wanted some changes.
She dyed her hair red, pierced her ears and put on shorts. Her fifth album, Magic, topped music charts in Taiwan and the mainland and the song, See My 72 Changes, totally transformed her usual image and saw Tsai as a sexy dancer. Her love affair with Jay Chou, "the king of pop in Taiwan", also made headlines.
Tsai is passionate about electronic music and the sound of disco, which is why she always dances like there is no tomorrow onstage, even when she was suffering through breakups.
When she released her album Dancing Diva, she surprised people by learning rhythmic gymnastics and performed yoga at concerts like her idol Madonna.
Some have questioned her singing ability, claiming that Tsai works so hard at dancing to cover up her singing weakness.
Tsai is frank about that. She once joked that if singers like Faye Wong is God-made talent, then she is Earth-made. She has to work very hard to catch up with the talents who are born to sing, she says.
"I appreciate those who doubt my singing ability. Without those critics, I wouldn't push myself so hard to learn dancing and polish my singing," she says.
chennan@chinadaily.com.cn