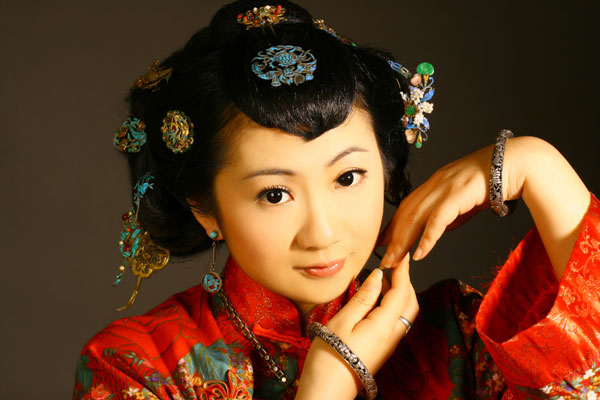 Ma Jingji shows off some of collection of antique jewelry, all centuries old, with many decorated with kingfisher feathers.
Antique jewelry must be expensive. That is the general perception, and it would be spot on, too, although the collectors are convinced that it's worth every penny paid. Chen Yiqing often buys such one-of-a-kind designer rings and necklaces because "it shows off depth as well as wealth".
"Diamonds sparkle, but a piece of antique jewelry helps to bring out your inner glow," she says. "Chosen well, the piece can cast a revealing light on the owner's unique sensibilities."
Ever since discovering Yijin Meixing, a Suzhou-based jewelry brand sold both online and at its boutique, Chen has been splurging on its highly imaginative creations combining antique jade and other precious stones with artfully wrought 18-karat gold.
What's to love the most?
"The designers' mastery in story-telling," says Chen. "I'm moved by their respect for the former glory of the piece - often broken and damaged - and their passion in weaving the original storyline into a new narrative in which the antique is still the focal point."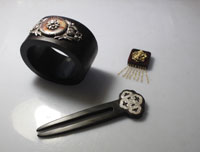 Zhang Huiming pairs antique elements with ebony.
One of Chen's favorites is a bracelet - half ancient white jade, half 18-karat gold, with the golden half ablaze with resplendent jewels. Ma Jingji, Yijin Meixing's founder and chief designer, named the piece Night Banquet, "a melding of purity and desire".
By completing the incomplete, Ma has carved out a niche market of buyers who consider her works collectibles, and often come back for more. Online and over the counter, she sells about 50 pieces every month.
Many of her regular clients come from Hong Kong, Taiwan and overseas, but Ma says the overwhelming majority still come from the mainland.
"It isn't that we have suddenly discovered the beauty of our heritage - the appreciation has always been there, but with increased spending power now, mainland women can now afford a precious piece of their own history.
"And that has provided a huge incentive for jewelry designers determined to mine our common past," Ma says.
Zhao Caixia, designer of antique jewelry brand President Jewelry, agrees.
"Frankly, I was aiming at a foreign market when I first started nearly a decade ago," she says, pointing to the location of her shop inside Beijing's shopping Mecca for tourists, the famous Silk Market.
But as time passed, Zhao had the satisfaction of noting a changing trend as well as increased sales.
"While foreigners are invariably impressed by the distinctive aesthetic, the Chinese customers are constantly looking for symbolic meanings embedded in the use of antiques. Beauty aside, they want something on which their sense of history and culture hinges," she says. "I'm grateful to be able to share these stories."
Both Ma and Zhao reckoned that a growing coterie of amateur collectors and independent artists forms the core of their business.
Sometimes, these collectors become a part of the creative process.
Over the past few years, Zhang Huixia, whose interests are in antique hairpins and decorative locks, has been sending her treasures to Zhang Huiming, whose designs marry antique accessories with hard-carved ebony.
"I was just sitting on my collection - hiding them away in little boxes and taking them out occasionally to admire them," she says. "Now, they have become an integral part of my life, and an unfailing conversation starter."
It is for clients like Huixia that Huiming has expanded the made-to-order part of her business - so she can incorporate their favorite pieces of antiques into renaissance art they can wear.
"What's the biggest attraction about antique jewelry? It is to continue a story that will never end," she says with conviction.
zhaoxu@chinadaily.com.cn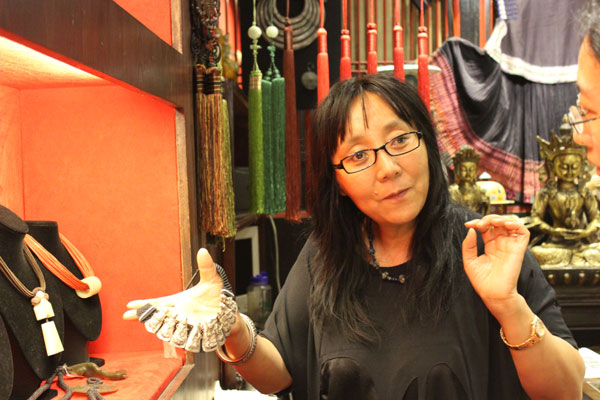 Zhao Caixia designer-owner of President Jewelry, says her creations are for "urban nomads".