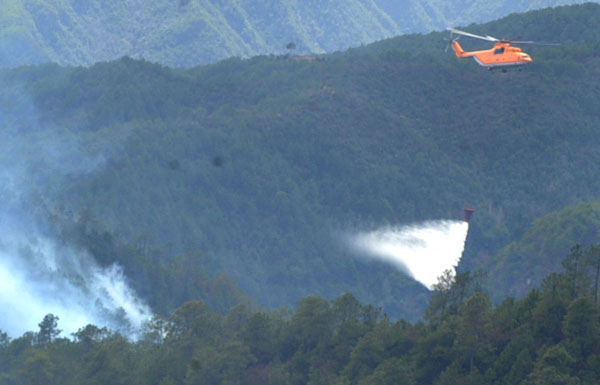 A helicopter drops water over a forest fire in Jianchuan, Southwest China's Yunnan province, March 4, 2011. 
Latest: The forest fire in Jianchuan was put out as 300 more soldiers are on their way to prevent the fire from breaking out again, China News reported early Saturday.
BEIJING - Chinese Vice Premier Hui Liangyu Friday  stressed the need to ensure the safety of fire-fighters after nine people died when trying to put out a forest fire in southwest China's Yunnan Province.
Hui said fire departments should dispatch enough professional fire-fighters to extinguish the fire as soon as possible, as latest reports said high winds had kept the fire alive.
The fire was started after a field of burning corn roots got out of control Wednesday. Winds reignited the fire that was smoldering Thursday, trapping the fire-fighters and resulting in the deaths and injuries.
Among the dead, three were professional fire-fighters, while six were volunteers including four county and township officials and two villagers.
Hospital sources said another seven injured people were in stable condition as of Friday morning.
More than 1,000 people and two helicopters have been mobilized in the fire fighting action.