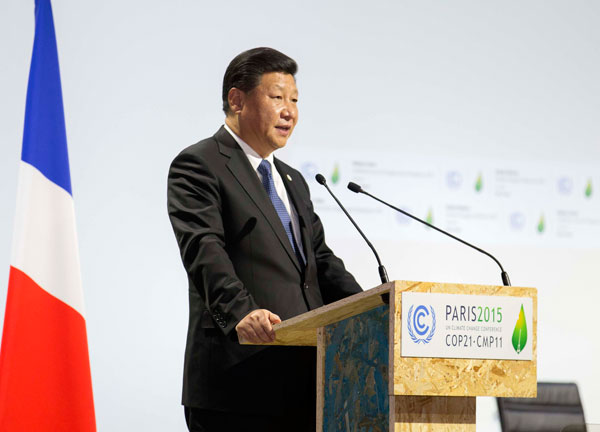 Chinese President Xi Jinping delivers a speech for the opening day of the World Climate Change Conference 2015 (COP21) at Le Bourget, near Paris, France, November 30, 2015.[Photo/Xinhua]
Paris started the year on a tragic note. The terrorist attack on the office of satirical magazine Charlie Hebdo on Jan 7 killed 12 people and injured 11. Ten months later, Paris suffered the worst terrorist attack Europe has seen since the 2004 Madrid bombings; the coordinated attacks on Nov 13 claimed at least 129 innocent lives and left more than 350 injured.
Less than three weeks after the deadly attacks, Paris hosted what many see as a breakthrough UN climate change conference. Many want Paris to end the year on a positive note. If it does, that would be a fitting reply, in true French tradition, to the menace that is terrorism. After all, French President Francois Hollande paid homage to the Nov 13 victims on Friday saying that instead of being cowed by acts of terrorists, France would "sing even more ... They (the terrorists) cultivate death, but we have love for life".
The love for life, however, requires some sacrifices, the sacrifice of wealth and power, and most of all of greed. World leaders know full well what needs to be done to save our planet. They know natural disasters are wreaking havoc across the world, and we humans are mostly responsible for them. They know that this year could be the warmest in recorded history.
The UN weather body, in fact, declared last month that the global temperature this year is set to rise 1 degree Celsius above pre-industrial levels, or halfway toward the targeted UN ceiling of 2 C. If this indeed is the case, voluntary carbon-reducing pledges submitted by countries, even if totally adhered to, will raise global temperatures by 2.75 C to 3.5 C, UN climate chief Christiana Figueres has said.