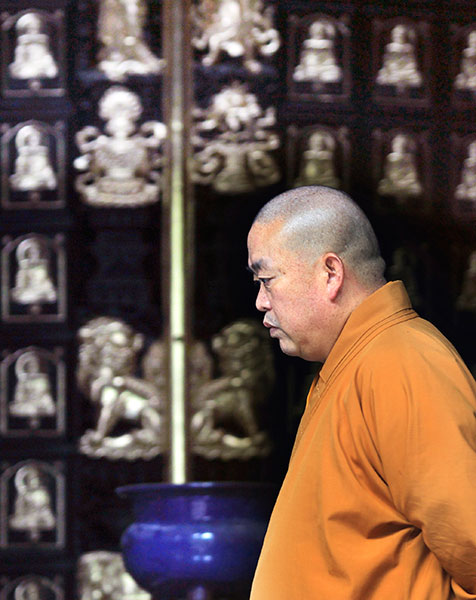 Shi Yongxin, the abbot of Shaolin Temple who has been the subject of an online attack.[Photo/China Daily]
It came as a huge shock to me to know that many Chinese have nothing but contempt for a Shaolin Temple monk who is rumored to have violated the teachings of the Buddha by keeping a mistress and fathering a son. Without ever doing any soul-searching, many ranking officials have used bribes and embezzled funds to do the same, and very few ranking officials placed under investigation or indicted have been free from this wrongdoing.
A monk keeping a mistress has been fodder for distasteful public gossip since ancient times, because a monk here is not supposed to keep physical relations with women.
Today, neither officials nor monks are supposed to have mistresses. So if a monk can be accused of sacrilege for keeping a mistress, an official doing the same should be accused of corruption (in fact, many of them have actually been so accused and disciplined according to Party rules).
A monk is supposed to abandon all worldly desires in order to cultivate his mind and soul, for only complete devotion to the Buddha can free him of all worldly concerns and help him fulfill his mission of helping people overcome their obsession with material and physical comfort. One cannot expect a monk who himself is obsessed with worldly pleasures to act as a true guide for disturbed and misguided souls. A monk who maintains double standard in matters of religion and his private life is nothing but a symbol of blasphemy.
It is a different matter that what many pilgrims seek has nothing to do with spirituality. Corrupt officials seek the Buddha's protection for the booty they have obtained illegally, the diseased seek a miracle to recover from their illness, and harried parents seek success for their children in the college entrance examination. So why should a depraved monk feel guilty before pilgrims who seek benefits from the Buddha in the name of piety?
In the same way, an official, as a civil servant, is supposed to serve the people whole-heartedly. He or she cannot be expected to do so unless he/she is resolutely honest. Yet many of them are double-faced. They excel in high-sounding rhetoric when it comes to responsibility, personal integrity and work ethics, while in private, they take bribes, keep mistresses, embezzle public funds and, if possible, bribe their way up the hierarchy. This is evident from the corrupt elements now behind bars.
Few people show any mercy for corrupt officials, some of who have shed tears in court while regretting having abused the power in their hands to make illegal money. Many have argued that such corrupt elements deserve capital punishment.
But in many reported cases, the ugly side of such indignation is the sour grape mentality. If some of those demanding the harshest of punishment for corrupt officials were put in similar positions, they would possibly be equally corrupt.
Abuse of power by corrupt officials can be an excuse for some people to refuse to behave like decent citizens, while many officials can use others' roguery as a pretext for doing a bad job of serving the people. Although this can be a question of chicken and eggs, both parties have the same sanctimonious respect for rules and moral principles.
Among other things, self-examination or soul-searching is what most Chinese people lack. But they also should cultivate morality, abide by the rules and behave as a citizen is supposed to. As Confucius has said, one needs to examine what he or she has done and said three times a day to make sure he/she does and says the right thing.
This is something all of us need to learn. But more importantly, we should be aware that we have such a need.
The author is a senior writer with China Daily. zhuyuan@chinadaily.com.cn