Editor's note: Beijing will allow guide dogs to board subway lines starting May 1, according to the capital's new regulations. Visually impaired passengers will be able to take guide dogs into the subway if they provide a certificate of visual difficulty and a guide dog license. What do you think? You're welcome to leave your comments.
Allan (China)
Subway cars can get extremely crowded at any time (not just rush hours) in Beijing. A dog on a leash is liable to get injured or even react negatively by biting other passengers (even good natured dogs). If they don't cause accidents or bite people, I'll be fine with guide dogs on the subway.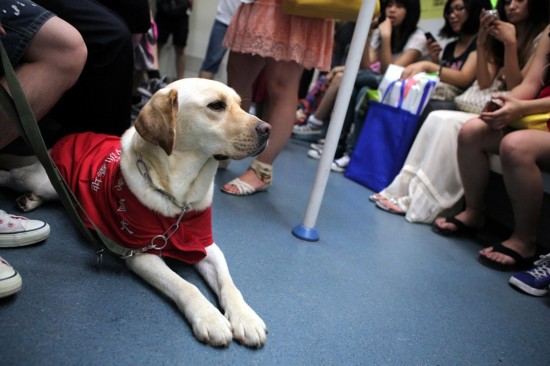 This undated photo shows a guide dog in a subway. [Photo/Xinhua]
Welcome to leave your comments on this topic or any topics that interest you to us. We would like to highlight the best on the homepage of our portal website. Contact us at comment@chinadaily.com.cn.