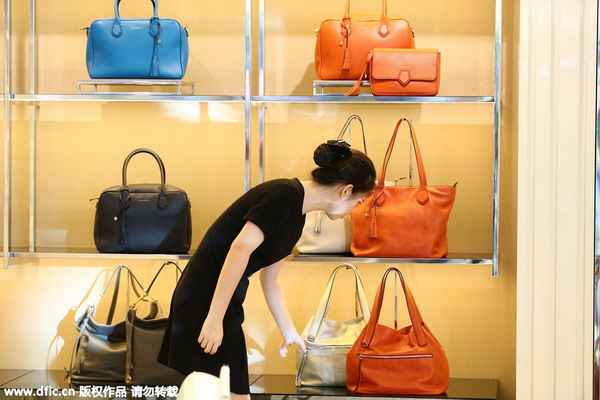 Bags of foreign brands are displayed at the Haitang Bay Duty Free Shopping Center in Sanya, Hainan province, Sept 27, 2014. More duty-free stores will open at Chinese borders, with a higher purchasing cap for each individual tourist and more categories of products. [Photo / IC]
On Tusday, the State Council, or the Cabinet, announced it plans to cut the tariffs on imported consumer goods in parts of China by the end of June to fuel domestic consumption, stabilize economic growth and reduce the outflow of spending by Chinese tourists. Comments:
The State Council's move has much to do with the declining imports in the first quarter. When a nation stays at a low level of economic development, it tends not to encourage imports of daily consumption goods in order to protect its own national industries and balance its foreign currency reserves; however, as its economy grows and reaches a certain level, importing these goods will bring benefits by optimizing the allocation of resources.
Bai Ming, a researcher on global trade at the Chinese Academy of International Trade and Economic Cooperation, which is affiliated to the Ministry of Commerce, April 29
The tariff cuts are a good move and we expect more favorable policies in the future. When domestic consumers can purchase imported high-quality goods at reasonable prices in China, they will purchase them here instead of rushing overseas to buy them - which will boost domestic demand and support economic growth in the long run.
Teng Tai, board chairman of Winbro Asset Management Co Ltd, via Sina micro blog, April 29
Responsible departments have long considered adjusting import tariffs, but they did not make the decision until now because they feared lower tariffs might lead to lower prices of imported goods, which in turn would lead to fiercer competition for domestic producers. Besides, those with high incomes might consume luxury goods without paying enough tariff.
The Economic Observer, quoting a source "close to the decision-makers", April 29
Obviously, the State Council aims to attract high-end consumption back through the new policies. It is estimated that Chinese consumers spent about 152 billion yuan ($24.5 billion) last year overseas, or about 3.8 percent of the country's total consumption retail volume. Had 50 percent of the former come back, domestic consumption would grow by 1 percent; that's why we put hope in the new policies.
Zhao Ping, a researcher on consumption studies at CAITEC, April 29