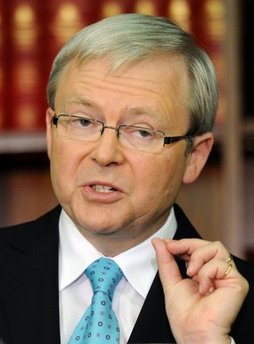 Former Australian Prime Minister Kevin Rudd, pictured in Sydney in early June. [Agencies]
Former Australian prime minister Kevin Rudd, a fluent Mandarin speaker, shows a clear vision in his latest report, "US-China 21: The Future of US-China Relations under Xi Jinping", arguing for a new framework of constructive realism for a common purpose.
Rudd, who claimed to be a global citizen in Shanghai on Wednesday, has the advantage of seeing the picture more objectively, for, as the Chinese saying goes, outsiders see more than insiders (dang ju zhe mi, pang guan zhe qing).
Rudd's argument makes a lot of sense, especially when he recommends a common strategic narrative centered on the concept of "constructive realism - common purpose" to guide China-US bilateral relationship.
However, such recommendations sound idealistic given the brutal reality in Washington and Beijing. For example, Rudd has advocated a greater role for China, but Washington's policy is that any greater role for China should be subject to a dominant US role. It would be na?ve to assume this American preoccupation will change anytime soon.
Rudd has also suggested the possibility of a Chinese heading the US-dominated World Bank and Europe-dominated International Monetary Fund. Yet the reality is that the US Congress has refused to endorse even a moderate IMF reform package approved by every other member state.
The recent US stance on the Asian Infrastructure Investment Bank is another indication of how the US is going to handle a greater China role, which, of course, is welcomed by most of US allies.
Is the American Century Over?, the latest book of scholar Joseph Nye, who worked with Rudd on the report at Harvard for the past year, also reflects the mentality that the US should prevent China from playing a dominant role in the world, just as US President Barack Obama has said repeatedly that the US, instead of China, should write the rules.
Unfortunately, these are not minority views or even the worst views in the US. Rudd expressed concern over the White House being advised by people like David Shambaugh who recently propounded the "China collapse" fallacy. There is the almighty military industry complex, which profits from tensions and conflicts in the world, the dysfunctional Capitol Hill where many lawmakers reveal their ignorance at hearings on China and many lobbying firms which are paid by interest groups to demonize China.
Sadly, how US political leaders flirt with China-US relations will be on full display later this year when the US presidential campaign heats up. China has traditionally been a bogeyman for American politicians and anyone talking sense regarding China, like Jon Huntsman, who is not adept at US politics, would not survive the primaries. Whatever the presidential candidates say this year, they are likely to be a major departure from Rudd's recommendations.
On the Chinese side, too, there are hawks and nationalistic groups that are unlikely to subscribe to Rudd's recommendations. Rudd is not sure if policymakers in the two capitals will endorse his recommendations. He has said that, whether or not they should be adopted by the two governments is for a matter for them to decide. He is just providing a vision.
He believes political will is required to fulfill such a vision and national leaders like Xi and Obama have the power to do that.
The question is whether such leaders will use their political capital to make right the most important bilateral relationship of the 21st century. Such political vision distinguishes a great leader from an ordinary one. It's time Beijing and Washington both embraced the idealism embedded in Rudd's constructive realism, instead of just applauding it.
The author is deputy editor of China Daily USA. chenweihua@chinadailyusa.com