Editor's note: The Swedish furniture brand Ikea is reportedly banning shoppers from sleeping on its displays, including sofas and beds, in its Beijing stores. What do you think? Is it unacceptable to take a nap in a store such as Ikea? You're welcome to leave your comments.
Chris (US)
I welcome the ban, since it's the only thing I have always faulted Ikea with. Who wants to sleep on a sofa or bed that thousands probably slept on - without proper hygiene involved? And who wants to snooze in front of thousands of people walking by? Ikea is not a hotel. It's not their house.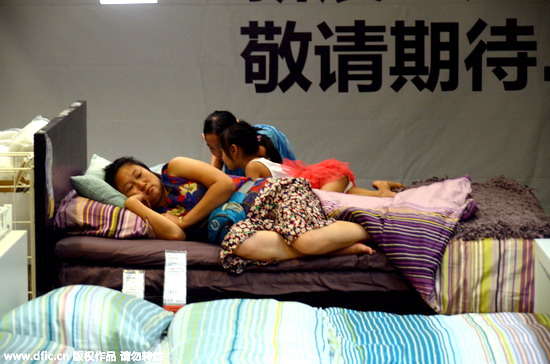 People rest on a bed to enjoy cool air and escape the heat of the scorching sun at a branch of Ikea in Shanghai, China, on August 6, 2013.