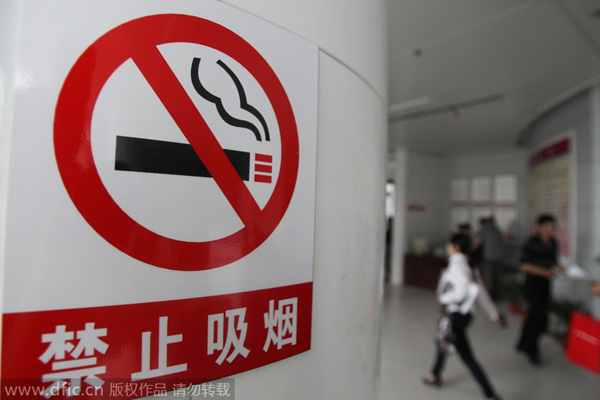 A no-smoking sign at a hospital in Nantong city, Jiangsu province. [Photo/IC]
Building a nation based on the rule of law is the ambitious goal set by the Fourth Plenum of the 18th Central Committee of the Communist Party of China held last October. It involves reform of the judicial system and other related institutions so they are fairer and just to the whole of society.
Some observers might feel that such an endeavor should start with the country's roads and restaurants, as traffic rules and smoking bans are violated every day on a massive scale.
For example, driving on the busy streets or elevated highways of Shanghai can often be a life-threatening experience, no less thrilling than a Formula One race track. Since many turning vehicles don't yield to pedestrians, people crossing the street have to be constantly on the alert for cars. Also, turning vehicles often don't yield to oncoming cars as traffic rules stipulate, and many drivers demonstrate dangerous cutting-in, putting the lives of themselves and others in danger.
All these reckless driving acts are punishable under the existing traffic laws and regulations. But on the streets of Shanghai and many other parts of the country, daredevil drivers rule.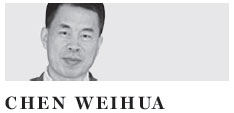 And it is not just when cars are in motion, Shanghai Television Station reported last week that a local community had been suffering a long time from cars parked in forbidden areas, which blocked the lane meant for ambulances and fire engines in the event of an emergency. In response, the community had to install gates to prevent cars trying to park illegally in the community, despite the clear "no parking" signs.
It is a similar story in many Shanghai restaurants where "no smoking" signs are obvious but ignored by many patrons who keep puffing away without being stopped by restaurant staff.
The solution to all these problems is the same, of course, more effective law enforcement. For example, traffic police should have zero tolerance to dangerous driving that ignores pedestrians or other cars and competes with oncoming vehicles. Cars parked in the forbidden areas in residential communities should be ticketed.
If the traffic police are not enforcing these rules, they are encouraging the violations.
The same applies to restaurants which don't enforce the smoking ban. In Washington, I am always amazed, or flattered, at being asked to show my ID while entering bars because the owners could be penalized severely if people under 21 are found drinking alcohol there.
Yet in China, those reckless drivers and restaurant owners don't feel such pressure simply because the rules and regulations are rarely or never enforced.
On June 1, Beijing will introduce what is being called the toughest citywide smoking ban law in indoor spaces. But it seems unclear who should be held responsible if such a ban is not strictly enforced, as in previous years and many other Chinese cities which have introduced similar laws and regulations. The toughest smoking ban desperately calls for the toughest enforcement.
China has failed to keep its promise to the World Health Organization's Framework Convention on Tobacco Control in banning indoor smoking not only due to a lack of determination to fight the tobacco industry, which is a major revenue source for some local governments, but also a poor enforcement capability of relevant laws.
It is no secret that enforcement has always been the Achilles' heel of many laws formulated by the National People Congress, the country's top legislature, over the past decades. If laws are not strictly enforced, it is worse than no laws because it means people don't have to take the law seriously.
Establishing the rule of law is a grander effort than enforcing traffic rules and imposing smoking bans, but if we cannot even enforce laws on drivers and smokers, it is hard to convince people that we are serious in such rule-of-law endeavor.
The author is deputy editor of China Daily USA. chenweihua@chinadailyusa.com