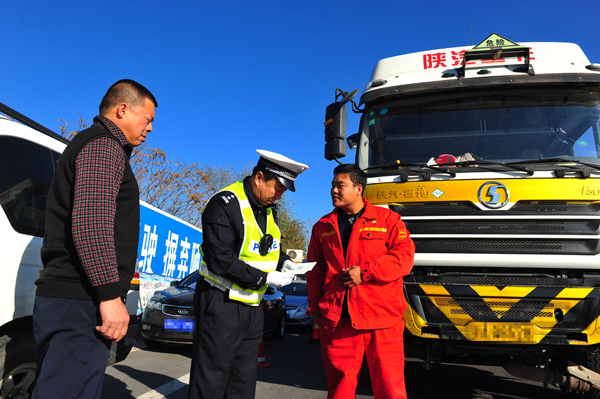 A traffic police office questions a truck driver at a checkpoint in Beijing, Nov 13, 2014. [Photo/CFP]
BEIJING - Beijing will ban gasoline-powered vehicles that fail to meet the National Emission Standard II from the road starting January 1 of next year to cut pollution, the local environmental authority said.
The vehicles will be banned from entering the city's Sixth Ring Road, according to the municipal environmental protection bureau, which held a pollution prevention and control conference on Tuesday.
Beijing currently imposes the National Emission Standard V for vehicles, similar to the Euro V standard in Europe. The city imposed the National Emission Standard I in 1999 and the National Emission Standard II in 2004. With each new standard, actual pollutant amounts dropped by 30 to 50 percent per vehicle.
Beijing plans to introduce policies to improve the cost and reduce the use of vehicles. It will also research congestion charges to cut pollution, according to the conference.
Beijing has eliminated "Huangbiaoche," or "yellow-label cars," which failed to meet the National Emission Standard I by the end of 2014, according to the conference.
Beijing scrapped 1.44 million old vehicles between 2011 and 2014. More than 90 percent of those vehicle owners bought new vehicles, contributing 8.1 billion yuan ($1.3 billion) in taxes to the municipal government, according to the bureau.
Beijing currently has 5.57 million vehicles, which discharge 700,000 tons of pollutants annually. Vehicle discharge is the top cause of pollution in the city, accounting for 31 percent of the total.