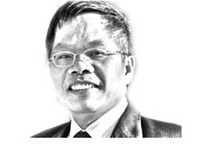 Yao Shujie, professor of economics at the University of Nottingham
"China has huge potential for growth in the coming years. First, political stability is key to the long-term prosperity of the country. The fight against corruption that has won firm support among people will create a sound environment for China's future development.
Second, China's economy develops rapidly and its status in the world economy has been undoubtedly irreplaceable. Actually, China has overtaken the US as the world's largest manufacturing and trading nation in the world. Also in new emerging industries, including high-speed rail, nuclear power, construction, biotechnology, some of China's technology has attained world-class level, which has laid a solid foundation for the further development of China.
Moreover, China has proposed a series of regional development initiatives, including "One belt one road" development strategy and FTA negotiations with other countries to strengthen bilateral ties and enhance regional cooperation. Once these initiatives are realized, they will help unleash tremendous momentum for economic growth for China and the world at large. "
Sina blog, March 4, 2015