Editor's note: Authorities have introduced measures to track and rein in the bad behavior of Chinese tourists, including misbehaving on public transportation and damaging historical relics. The moves follow a spike in the number of reports involving unruly behavior at home and abroad. What do you think? You're welcome to leave your comments.
DF21d (Malaysia)
As an old saying goes - "Old habits die hard". It would be hard for some people to change their bad behaviors, like spitting, littering, jumping queues and speaking loudly in public places. But if such behaviors are outlawed and the law is STRICTLY ENFORCED, like in Singapore, it is not impossible to change people's bad behaviors. Preferably proper manners/behaviors are taught at a young age at school and home so that people behave naturally and not because of fear of being penalized.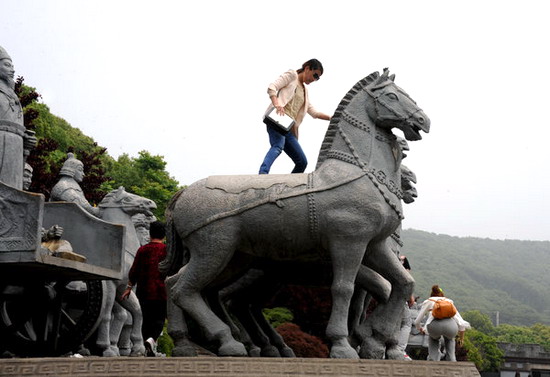 A tourist climbs on a statue in Wuxi, Jiangsu province, on May 10, 2013.