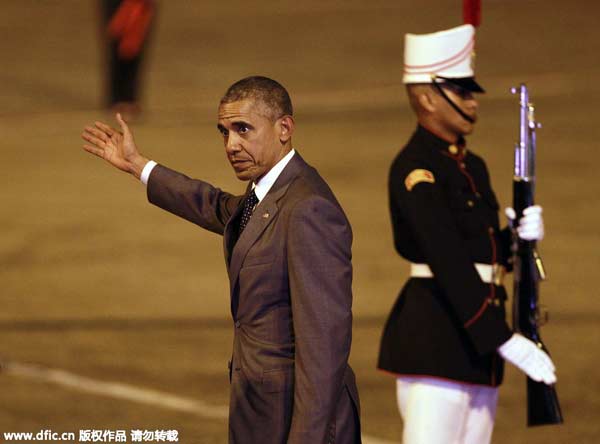 US President Barack Obama gestures as he arrives at the International Tocumen Airport in Panama City, Panama, April 9, 2015. [Photo/IC]
Soon after assuming office in 2009, US President Barack Obama had said the United States was seeking a new beginning with Cuba. Six years later, he was finally able to fulfill that promise: it is better late than never.
Obama's historic talks with Cuban President Raul Castro were held on Saturday on the sidelines of the seventh Summit of Americas in Panama City. Their handshake paves the way for a thaw in decades of icy enmity between the two countries. But its significance goes beyond bilateral relations, because the US-Cuba impasse, a legacy of the Cold War, has helped shaped geopolitics in South America.
Obama was right six years ago when he termed the US policy toward Cuba a failure. For more than half a century, the US' hostility toward Cuba has been notorious: From trade embargo to diplomatic isolation, it has treated Cuba like a real enemy as though its southern neighbor posed a threat even decades after the Cold War ended.
The US policy has proven futile either in bringing Cuba to its knees or in fetching Washington tangible benefits. This failure, along with the call of the international community for Washington to lift its embargo on Havana, prompted the Obama administration to seek reconciliation with Cuba.
For Havana, the lifting of the US sanctions means an opportunity to improve its economy and intensify its interactions with the West. For the Obama administration, the move could kill two birds with one stone: leaving a political legacy for being the ice-breaker of US-Cuba relations and using the opportunity to improve ties with the southern neighbors.
Indeed, with his second term ending in less than two years, breakthroughs made in the Iranian nuclear talks and now Cuba could be Obama's most important legacy.
Washington's relationship with South American countries has been greatly dented by both the US embargo on Cuba and its interventionist and hegemonic behavior in the region. Despite the US' efforts to consolidate its power and presence in a region it considers its backyard, its "carrot and stick" policy has by and large run into a stone wall as Latin American nations have shown growing solidarity and greater determination in defending their sovereignty and independence.
Left-leaning governments have not only assumed office in major Latin American countries, but also enjoy popularity. This has made them exhibit an unprecedented political will to promote regional integration. The ever deepening regional consensus on self-reliance now makes the trend of regional integration unstoppable.
Such a new reality in geopolitics poses a real challenge for Washington if it still wants countries in its "backyard" to dance to its tunes.
As to US-Cuba ties, Obama's symbolic meeting with Castro is no guarantee that it will be plain sailing for the two countries from now on. For one thing, like the framework deal of the Iranian nuclear issue, lifting the sanctions on Cuba will prove to be equally challenging for Obama at home. Whether the US could lift its decades old embargos on Cuba and remove Cuba from the list of state sponsors of terrorism will be the real barometer for the normalization of US-Cuba ties.
More importantly, a thaw in US-Cuba relations does not necessarily mean Washington is ready to change its foreign policy. Even though Obama said his meeting with Castro sends the message that the Cold War is over, the Cold War mentality still haunts international relations, and Washington is the one that keeps selling it to the world from time to time.
As such, it is hoped the US and Cuba will continue to build on the current momentum and seek a solution that would be beneficial to both countries as well as the Americas as a whole.
The author is a senior writer with China Daily.
wanghui@chinadaily.com.cn