Editor's note: Are foreigners treated with hospitality in China? Some Forum readers share their experiences. You're also welcome to leave your comments.
Chris (US)
I am American and have been to China four times. I have been treated very nicely by all the people I have met. I spend about 30 days each trip and try to see and get around the area I am in as much as I can. I do have the drawback of only going to the north-east part of China in the Shenyang area. I am planning my next trip now and will leave in a few weeks. I now have a Chinese wife there so this is a major part of my travel plans. The people in China are friendlier than most places I have been.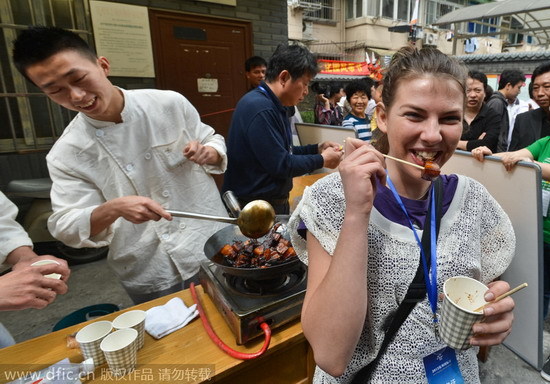 A foreign tourist tries out Dongpo Braised Pork in Hangzhou, on April 25, 2012.
The original piece: http://bbs.chinadaily.com.cn/thread-859050-1-1.html