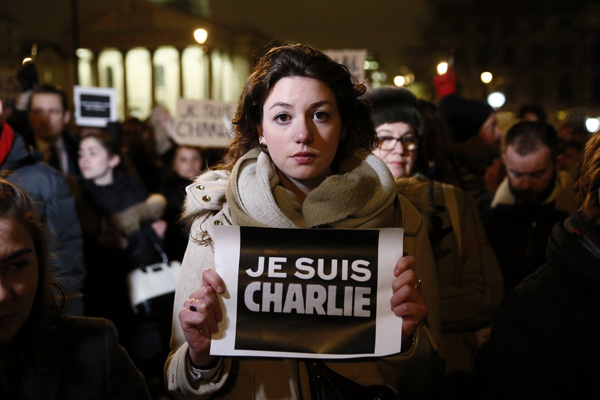 A woman holds a placard that reads, "I am Charlie", during a vigil to pay tribute to the victims of a shooting by gunmen at the offices of weekly satirical magazine Charlie Hebdo in Paris, at Trafalgar Square in London on January 7, 2015. [Photo/Agencies]
On the surface, the Jan 7 attack on the offices of Charlie Hebdo in Paris is a clear sign of the intense conflict between believers in different religions - Jews and Muslims, and Christians and Muslims - which has given rise to the anti-Islam, not just anti-terrorist, movement in the West. A deeper look into the terrorist attacks would reveal that such a movement serves the purpose of the concerned Western countries' foreign policies.
Muslims have been living in European countries for a long time, but the 1960s started a wave of immigration by believers in Islam to the West. Demographers now say Muslims could comprise about 10 percent of the French population and 8 percent of the European population. No wonder, France has struggled to "outlaw the use of veils (burqa)" believing it is the only way Muslims can become truly French citizens. Also, there have been intense debates on "multiculturalism" in the Netherlands and the United Kingdom. This so-called multicultural crisis reminds one of a popular saying of Confucius: "Unity without uniformity" (The Analects).
There indeed is a common ground when it comes to moral values, social responsibilities and individual pursuits. People may belong to different nationalities and ethnic groups, but they are part of "One Humanity". The "Alliance of Civilizations" proposal put forward by Spain at the United Nations takes "One Humanity" as the key word of its cultural project. Therefore, the rise in the number of terrorist attacks suggests people need to further deepen their mutual understanding by getting to know the basic tenets and cultural traits of other religions.
Buddhism, Christianity, Islam and Judaism have been practiced in China for more than a millennium. In terms of cultural assimilation, Confucianism is all about human concerns and self-cultivation to achieve the goals of life, which are not different from some religious pursuits.