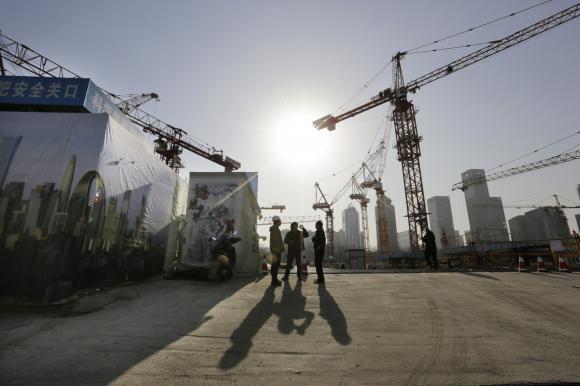 Workers chat outside a construction site in Beijing's central business district, December 29, 2014. [Photo/Agencies]
China released the summary of its overall economic performance in 2014 on Tuesday, which showed a 7.4 percent GDP growth, the lowest since 1990 and 0.1 percentage point lower than in 2013.
But losing some speed in GDP growth is not necessarily a bad thing for China. Lest we forget, observers used to describe the Chinese economy first as overheated and then as dangerously bubbling - from the early 1990s to a couple of years immediately after the 2008 global financial crisis. In fact, even now the country is carrying some of the momentum from the very rapid, and often unbalanced, growth of the past few years, as unsold new houses and unwanted manufacturing capacities still plague many cities.
So the slowdown in 2014 should be seen as the beginning of a transition, a transition that will continue for a few years strengthening the economy and sharpening competitiveness. The transition, as reflected in the National Bureau of Statistics' data released on Tuesday, is also characterized by things other than lower GDP growth.
The first is the economy's resilience, as opposed to its fragility during its period of fast-paced growth. This resilience is reflected in the country's ability to create more than 10 million urban jobs and to prevent the income gap between the rich and poor from widening further in 2014.
Second, China has realized the importance of the diminishing effect of government-led investment on economic growth in terms of quality and quantity. Such investment will be smaller, more targeted, and more open to private sector participants.
Third, the country has begun using more differentiated policies, instead of across-the-board policies, to prevent speculation in the urban housing markets while protecting regular business.
Fourth, in contrast to the overcapacity and dwindling profitability in many traditional industries, the application of new technologies, most noticeably e-commerce and mobile Internet, has been making encouraging progress.
Fifth, the regulatory environment has improved thanks to a painstaking move led by the central government to uphold the rule of law, cut taxes and reduce the process for businesspeople to get approvals from authorities. And through the change, local governments are learning to shift their reliance for development from large, costly projects to flourishing small-scale enterprises.
These newfound strengths will continue to play out in the Chinese economy in 2015.