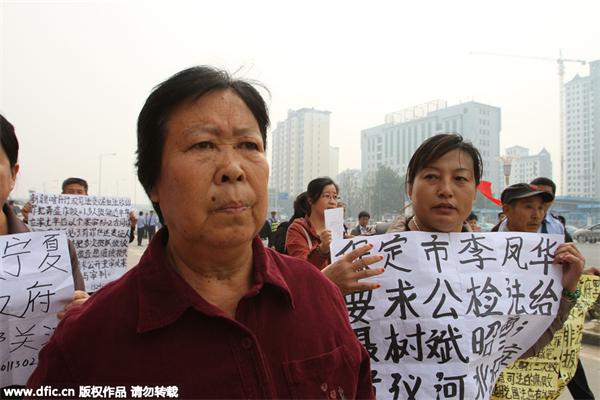 The mother of Nie Shubin who was convicted of murder and was executed in 1995, left, protests after an appeal by Wang Shujin, a prisoner convicted of raping and killing at least four women, against his death sentence was rejected by the Handan Intermediate Peoples Court in Handan city, north Chinas Hebei province, 27 September 2013.
The case of Nie Shubin, a 21-year-old man who was sentenced to death and executed in 1995 for the rape and murder of a woman, first aroused doubts in 2005 when another man admitted that he, not Nie, had committed the crime. Reports show Nie might have confessed to the crime under torture. Shandong provincial people's high court, which is reviewing the case, held an open hearing on Monday to decide whether to retry the case. Comments:
The Shandong court has taken a big step toward judicial transparency by holding an open hearing. When the family and lawyers appealing for justice for a person possibly wrongly executed for a crime stand face to face with the officials who sentenced him to death, the public knows there is no longer any place to hide wrong deeds. Only with ample transparency can the courts gain the public's trust.
Beijing News, April 29
The pieces of evidence produced by both sides at the hearing - for example, the date of Nie's signature did not match that in the record - show there might have been some mistakes in the process leading to the previous ruling. However, Hebei officials claim these were minor mistakes. By conducting the hearing, the Shandong court has indicated that it is under huge pressure, too - both from fellow judicial officials from Hebei and the media.
Beijing Times, April 29
We cannot see history, and some truths might be lost forever. We can only try to recover them with pieces of evidence. How to obtain and use the evidence constitutes procedural justice, without which the people will lose confidence in social justice.
He Jiahong, a professor of law at Renmin University of China, April 28