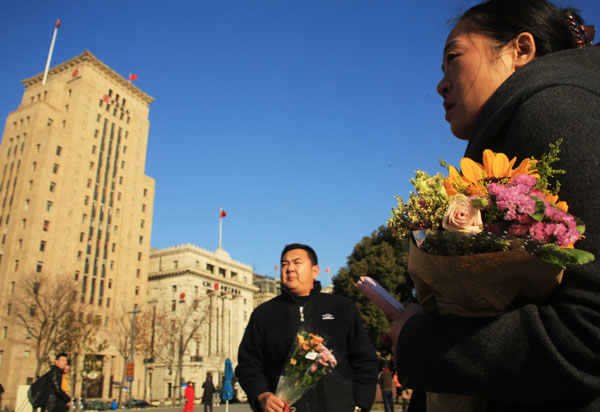 People mourn victims killed in a stampede in downtown Shanghai January 1, 2015. [Photo by Ren Guoqiang/For chinadaily.com.cn]
Editor's Note:
The deaths of 36 people in the Shanghai stampede on New Year's Eve have sparked a serious public debate over how it has been reported. Two open letters posted on the Internet, along with a media scholar's comment, analyze the controversy reflected in the debate. Excerpts:
Open letter From Fudan Alumni
Focus should not be on one victim
Many say 2015 has begun on a tragic note. For Fudan University students, the year could not have begun on a sadder note, because one of the victims was from the Shanghai-based university.
Perhaps an even sadder part of the tragedy is that some media reports have given detailed information on the Fudan University student, including her age, hometown, major, interest in traditional costumes, her message board on social network, and even quotes from her boyfriend's online postings.
According to regulations and media ethics, journalists have the responsibility of reaching objective and fair news to the public, and respecting people's sentiments. A socially conscious journalist will tell readers or viewers what exactly has happened or, in this case, advise them how to prevent (or avoid) repetition of such tragedies. News reporting does not have any scope for personal views.
Although 36 people, many of them students, died in the crush, the media report has focused on one of the victims, that is, the female student of Fudan University. The continuous media focus on the Fudan University student is rubbing salt on her family's wounds. The media should understand this and spare her parents the ignominy of reading the not-so-pleasant details of their daughter's life.
We, the students of Fudan University, condemn the sensational reports on our college mate. We want her family and friends to be protected from the glare of the media. And we hope the media will respect the feelings of her family.
Thank you.