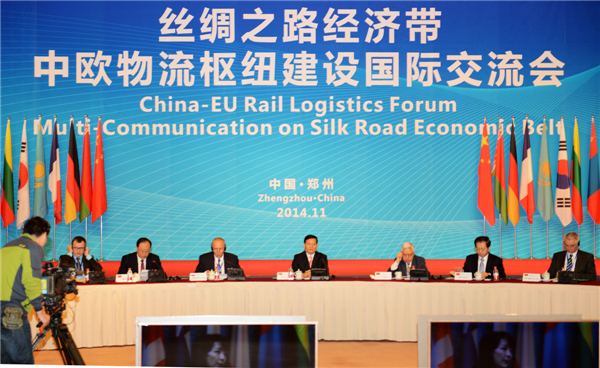 More than 500 delegates and entrepreneurs from countries along the Silk Road Economic Belt attended the China-EU Rail Logistics Forum Multi-communication, in Zhengzhou, capital of Central China's Henan province, Friday. [Photo by Xiang Mingchao/provided to chinadaily.com.cn]
More than one year after President Xi Jinping announced China's megaplan to better connect the Asia-Pacific region with Europe and Africa by land and sea, the world has become familiar with the concepts of the Silk Road Economic Belt and the 21st Century Maritime Silk Road. Perhaps 2015 is the best year for countries to act locally to enrich the "pragmatic recipe" offered by China to sustain global economic development in the Asia-Pacific region and beyond.
The modern Silk Road could cover a wider area than the historic one. But the expansion of the Silk Road should not be the only aim of the planners; they should also build a low-carbon and overall eco-friendly economic belt.
Chinese leaders are expected to meet with their European Union counterparts twice this year. Their first meeting is likely to be held in Brussels soon and the other is scheduled for the latter part of the year in Beijing. The second half of the year will also see the Italian city of Milan host the 2015 World Expo and Turkey playing host to the G20 summit. And all these meetings are bound to discuss better connection, infrastructure construction and the Silk Road initiatives.
The EU leaders are expected to respond to Beijing's Silk Road initiatives at the Brussels meeting, especially because Xi's historic visit to the EU headquarters last March has strengthened the ties between the two sides and opened new avenues for cooperation. After launching cooperation and infrastructure funds to strengthen its ties with Central Asian and Eastern European countries, China should mull developing financing tools to help expand Chinese business in the EU. In fact, this will be a win-win move because the EU needs to raise 315 billion from 2015 to 2017 to make good its European Investment Plan, and Chinese enterprises can provide those funds.
Low-carbon and eco-friendly economy is likely to be the buzzword even at the Paris climate conference, where UN member states will try to reach an agreement to curb greenhouse gas emissions. And the biggest challenge for world leaders in this regard is to find the right balance between making efforts for global economic recovery and fighting climate change.