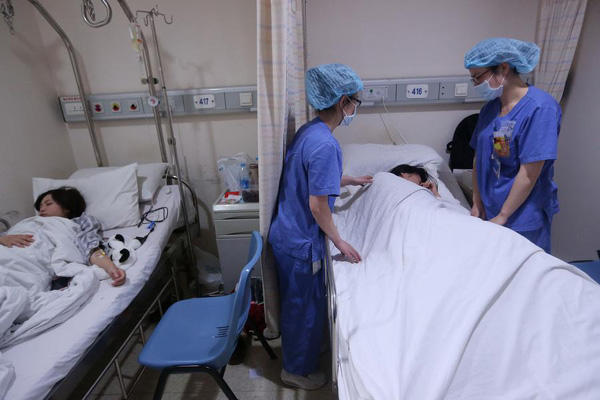 People injured in stampede during New Year celebration in the Bund get treatment at Ruijin Hospital in Shanghai, Jan 2, 2014. [Photo/Xinhua]
SHANGHAI - Thirteen people sustained severe injuries in a stampede during New Year celebrations late Wednesday in Shanghai, including four in critical condition, local authorities said Friday.
As of 11 am on Friday, 31 people were receiving treatment at local hospitals, including 13 with severe injuries and 18 with slight injuries, according to the municipal health and family planning commission.
The commission has organized eight experts from the municipal mental health center and summoned another 40 in preparation to offer counseling service to the stampede victims at three hospitals.
Thirty-six people died in Wednesday's incident. The municipal government on Friday released the identities of those who lost their lives. Among them, were 21 women in their 20s and the youngest was a 12-year-old boy.
By Friday, 18 of 49 injured had been discharged from hospital. All of those that remain hospitalized have had their next of kins informed.
Police are investigating the cause of the stampede and the municipal government has set up a working team for rescue operations and to deal with the aftermath.
There was no official New Year celebrations in the Bund, a stretch of riverbank on the west side of the Huangpu River in Shanghai.
The municipal government has been caught in the backwash of criticism for not making effective preparative measures to cope with the crowds that flock the Bund, although it did close the nearest subway station to the area.