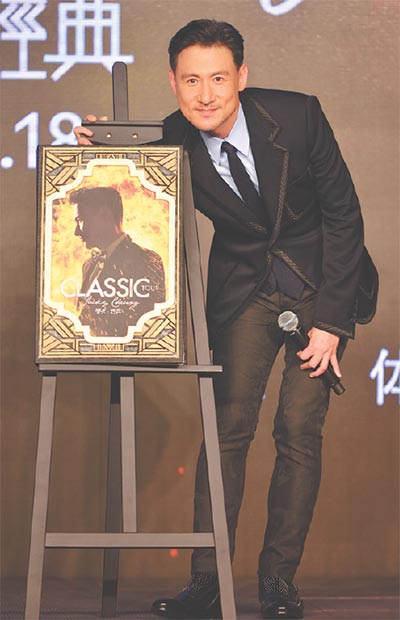 Jacky Cheung has announced that his latest global tour, A Classic Tour of Jacky Cheung, will start in Beijing with three concerts Oct 21-23. [Photo provided to China Daily]
Jacky Cheung looks sharp in a slim-fit suit.
At 55, the Hong Kong pop icon who has been in regular spotlight for more than three decades, is among few Chinese artists with such a long and successful career. His album sales are more than 60 million worldwide and he has appeared in dozens of films that have been well received by both audiences and critics.
Cheung recently announced in Beijing that his latest world/mainland tour, A Classic Tour of Jacky Cheung, will begin in October. He will tour six cities in the mainland-Beijing, Chongqing, Shenzhen, Guangzhou, Shanghai and Wuhan. The show promises to have the singer's most popular numbers since the 1990s.
His last tour was held four years ago, titled Jacky Cheung 1/2 Century World Tour, which referenced his age then. The tour has a Guinness World Records' entry for the largest combined audiences of a live act in a year, from December 2010 to December 2011, with more than 140 shows in 61 cities in China, the United States, Singapore, Malaysia and Australia-drawing more than 2 million people.
"It's not realistic and a waste of time. I won't set any goal for my new project," Cheung says when asked if there is pressure to break his own record. "I'm lucky to be in showbiz and have the chance to perform even at my age."
Starting his career after winning a singing contest in 1984, Cheung became one of the biggest Canto pop stars, and is dubbed a "heavenly king" by his local followers along with Andy Lau, Leon Lai and Aaron Kwok, the other pop singers and actors from Hong Kong.
In 1993, 4 million copies of Cheung's album The Goodbye Kiss were sold in Asia. Two years later, he performed a 34-night stand at the Hong Kong Coliseum, kicking off his first 100-show world tour.
As part of the next tour, he will perform his popular ballads in Cantonese and Mandarin, including The Goodbye Kiss and Loving You More Each Day, in a show that is expected to last for more than two hours.
"We did all the experiments in performance in the '90s and since we call the tour classic, I think it's a good idea to have some of our best-known stage settings reappear this time," says Cheung.
In 1995, he had a famous setting by which the stage opened in four directions for audiences to see. He plans to have a similar stage in the fall.
With digital technology making inroads into the music industry, much has changed in the way music is recorded, consumed and how newcomers break into the scene.
"It hasn't changed much other than that I'm very aware that I have gray hair and that fewer young girls come to my shows," Cheung says of what he perceives as changes pertaining to his own musical life.
Unlike in his younger days, which were full of tight schedules-releasing albums, touring and acting-Cheung now takes the time to make every new move the way he wants.
"I didn't do much work during the past four years, besides taking my daughters to school every day," says Cheung, who released his latest Mandarin album, Wake Up Dreaming, in December 2014, and starred in some Hong Kong films, including action-comedy flick The Man from Macao III and crime thriller Helios. "I always have something in mind about my next project but nothing is a hurry."
At a recent media conference in Beijing, a big book, which chronicles Cheung's decadeslong career in images, was also unveiled.
A turning point in his career, which hasn't been mentioned in the book, came in 1988, when his Cantonese album Dream in Grief sold less than 10,000 copies. A year later, the singer started to act in films to make ends meet.
But it hasn't been all that bad. He won the best supporting actor award twice-once at the 8th Hong Kong Film Awards for his role in As Tears Go By (1989) and later the Golden Horse for another role in Swordsman in 1990.
"I was anxious back then. The only way to keep myself motivated was through performance. Maybe one day when I am too old to sing or act, I will share the experiences with the younger generations."
And, with all his accomplishments, what the singer wants the most for the future are musicals, he says.
In 1997, he directed, composed and played the lead role in Snow Wolf Lake, a musical that premiered in Hong Kong with 42 shows and came to Beijing in 2004, with a Mandarin version.
"Musical is my favorite art form because it combines singing and acting, two things I love. But it's a huge task since it needs lots of teamwork to make a musical happen," he says.
He wants to make another musical before he gets too much older.
Related:
China International Chorus Festival set for July