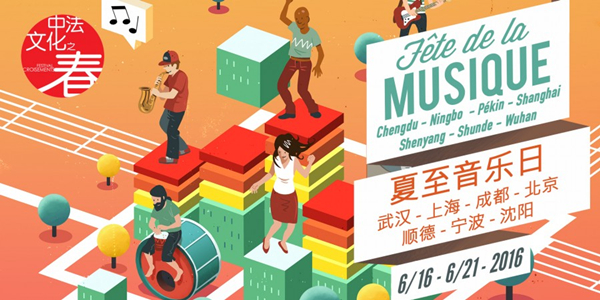 [Photo provided to chinadaily.com.cn]
Starting June 16, six French bands will tour in seven Chinese cities to charm Chinese audiences with their nouveau beats for this year's Fête de la Musique.
The bands include Nach, Success, Marie-Madeleine, Smokey Joe and the Kid, Last Train, Bon Voyage. They will play music that ranges from psychedelic to funk, electric to rock.
Several Chinese bands will join their tour, including electric rock band Pet Conspiracy and indie band Omnipotent Youth Society.
Fête de la Musique was launched by former French Ministry of Culture Jacque Lang in 1982. Now in its 34th year, the music festival has been to over 450 cities in about 100 countries.
This year, the festival will travel to Beijing, Shanghai, Ningbo, Wuhan, Chengdu, Shunde and Shenyang. The 10th anniversary in China will be celebrated in Wuhan in Central China's Hubei province.
The festival will last till June 21. Live performances will be on music.pptv.
For more information, click on the Fete's homepage.