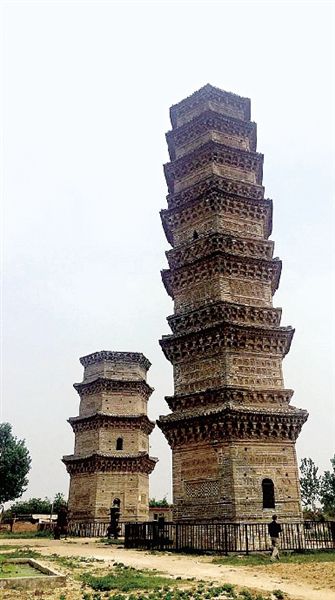 The leaning tower at the Shousheng Temple in Zhengzhou, the capital of Central China's Henan province. [File photo]
It's known to Zhengzhou locals as the "Leaning Tower of Pisa". Similar to its namesake, a Song Dynasty tower (960-1279) in the Central China Henan province capital has leaned 40 centimeters, gaining the attention of archaeologists.
The tower belongs to the Shousheng Temple in Ranjia village, Zhongmu county in Zhengzhou. As a provincial-protected cultural relic site, the temple is famous for its twin towers.
The towers are 20 meters apart. The east tower has four layers and stands at 18 meters. It's western - and leaning – partner is thirty meters high, with seven layers..
The temple's 80-year-old watchman Ran Xiaoshui is increasing concerned about the inclining west tower and is afraid it falls apart someday.
He said the west tower was still leaning and needed renovation.
But after investigating the site, ancient architecture experts said the tower had stood for more than 1000 years and the geological structure under the tower was stable. It won't collapse for a short while.
Leaning tower restoration is proving difficult across the world and the tower's renovation would need long-term observation and more feasible schemes, according to experts from the Institute of Cultural Relics and Architecture Protection in Henan.