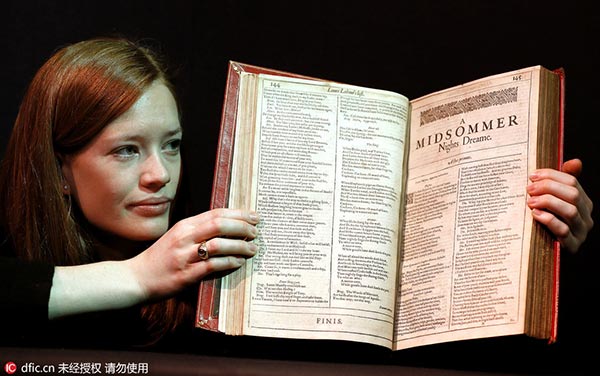 In this March 16, 2016 file, a Christie's member of staff displays an unrecorded copy of the First Folio, the first collected edition of Shakespeare's plays, widely considered the most important literary publication in the English language, in London. [Photo/IC]
Copies of William Shakespeare's first four books, dubbed the "Holy Grail of publishing", have sold for almost 2.5 million pounds ($3.67 million) at auction in London.
"One million five hundred thousand. And one million five, one million six hundred thousand. One million six hundred thousand, with Margaret Ford, one million six hundred thousand pounds."
Christie's auction house says they were sold as separate lots on Wednesday but were all bought by an anonymous private American collector.
Margaret Ford, International Head of Books and Manuscripts at Christie's, revealed a little about the buyer.
"It is a buyer who I've known for some time and I've worked with and he appreciates fantastic books, and so he understood this and the importance of these volumes from the very beginning and he's the very proud owner. He is a private person and he wishes to remain so, he's an American, and as I said, he is now the proud owner of four folios from a fantastic provenance."
The London sale has included the bard's first folio, which is widely considered to be the most important literary publication in the English language.
The book was published in 1623, and contains 36 plays, 18 of which had not appeared in print before. It fetched 1.87 pounds, well above its pre-sale estimate of between 800 thousand pounds and 1.2 million pounds.
The Second Folio was sold for 194,500 pounds, the third 362,500 and the fourth 47,500 pounds.
This year marks the 400th anniversary of the playwright's death.
Related:
Ancient theater dig reveals Shakespeare legacy
UK stage plays to screen in China to mark Shakespeare's death