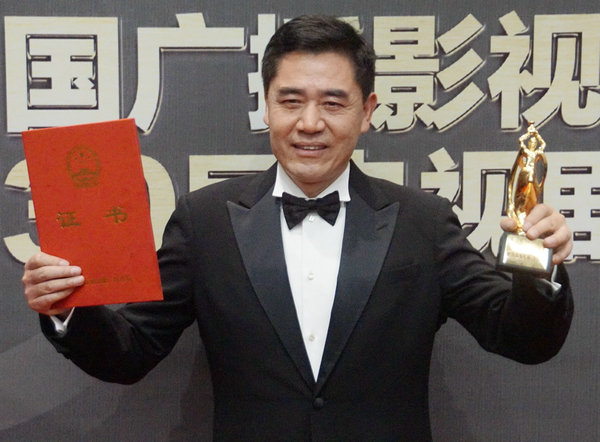 Chinese actors Mei Ting and Chen Baoguo (above) are winners at this year's Flying Apsaras Awards.[Photo/CFP]
As New Year's Day approaches, the country's TV industry is looking back on its small-screen achievements and regrets in the past year-showcased when the 30th Flying Apsaras Awards were bestowed in Hangzhou, Zhejiang province, on Monday.
Seventeen TV series stood out from 200 candidates, which entered the final round competing for the title "excellent TV series" in three categories: history, realistic theme and revolution theme.
The competition was launched in the early 1980s as the only state-level TV series award on the Chinese mainland organized by the government. The latest event reviewed productions since 2014.
The award-winners include historical drama, Nirvana in Fire, which has attracted millions of fans with its handsome actors and tantalizing storyline, and Deng Xiaoping at History's Crossroads, a biographic series reviewing the former Chinese leader's life.
China produced more than 15,000 episodes of TV series in 2015, perhaps a boom time for the industry.
"Today's TV series in China tend to have a solid foundation in reality and try to match the pulse of society," Gao Xiaohong, a media professor at Communication University of China, said at a TV innovation forum in Hangzhou on Sunday. She was referring to the general scenario of realistic dramas on last year's small screen.
"The producers are willing to reflect a complicated society through common people's happiness and sadness."
For example, she cites the award-winning The Ordinary World, which deals with individuals' destinies and love, and different social strata in a nostalgic tone.
As 2015 is the 70th anniversary honoring the victory in the War of Resistance Against Japanese Aggression (1937-45), the war has become a pillar of revolution-themed TV series this year.
"Those TV series reflect the war in wide spectrum, which serves a good educational function," says Meng Fanshu, a researcher with the Chinese National Academy of Arts.
"But, it is not a good idea to fill our screens with productions on that war," Meng says. "Some stories are basically not relevant to the war, but have the wartime as a background. That's not to mention some irrational exaggerations in details that disgust audiences.
"Many works are still superficial. We still lack enough productions with higher-level thinking," he says, lamenting the overwhelming tendency toward entertainment among such productions.
As for historical themes, Nirvana in Fire paves a new way for other followers in China, according to Jia Leilei, deputy director of the Chinese National Academy of Arts.