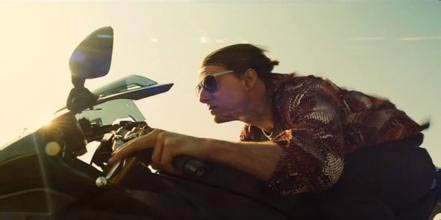 A screen shot from "Mission Impossible - Rogue Nation". [Photo/Agencies]
This year has been historic for China's film industry.
As of Dec 3, China's total box office sales for 2015 reached a record high of 40.05 billion yuan ($6.18 billion), according to statistics from the State Administration of Press, Publication, Radio, Film and Television (SARFT).
Notably, with the domestic film market flourishing, trademarks of some of China's major private film companies, such as Wanda and Huayi Brothers (HB), can be seen in several Hollywood blockbusters released over the year, including "Southpaw" and "Mission Impossible - Rogue Nation."
Having taken the country's film industry to the next level, it is becoming clear that China's film giants are looking to explore the global film market.
From films to companies 
Chinese films have a long history of being exported. Some of them succeeded overseas with awards at prestigious international film festivals, while others drew a solid fanbase abroad.
Despite recently signed agreements with 13 countries on film co-production, many Chinese films failed to make a big global impact and most of the overseas audiences are actually Chinese, according to Luan Guozhi, deputy director of the film board of the SARFT.
In order to improve the situation in recent years, several major private film companies in China have joined Chinese films going abroad, seeking to cooperate with companies in Hollywood.
Companies like Wanda and HB have resorted to taking part in film production, investing and others, a report published by Peking University (PKU) on film industry showed.
For example, HB co-produced a couple of reputed films such as the thriller "The Gift" with major film companies in the United States. Alibaba Pictures, which is affiliated to e-commerce giant Alibaba, invested in the latest "Mission Impossible" movie.
"Hollywood is more keen on working with those in the film industry after all," said Yu Dong, CEO of Bona Film Group, another major Chinese film company. "They know better how to make it in the business."