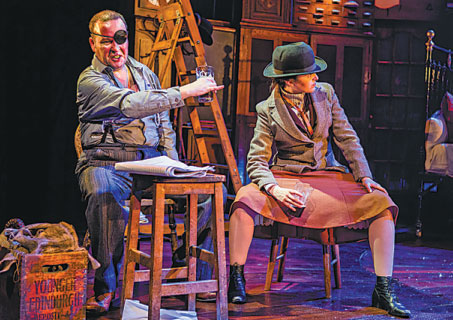 A scene from Ulysses, a UK-China coproduction, was staged in Beijing as part of the 2015 UK-China Year of Cultural Exchange.[Photo provided to China Daily]
Veteran theater director Yi Liming bought a copy of Ulysses several years ago. He couldn't finish reading Irish writer James Joyce's classic novel because it was too hard to understand.
However, during his trip to the Edinburgh International Festival in 2013, Yi saw a poster for the Ulysses theater production directed by Andy Arnold, creative director of Tron Theater in Scotland.
Out of curiosity, Yi bought a ticket, and over the next two hours he was entranced. After the show, Yi opened the novel again and finally finished reading it.
"It is the magic of theater. The director interprets the novel onstage, which is an easy way for the audience to learn the essence of the book," says Yi.
As the artistic director of Beijing-based Chan Drama, Yi decided to bring Arnold's production to Beijing, hoping more audiences in China would better understand the novel like he did.
Yi's small wish, however, turned out to be a big event as part of the 2015 UK-China Year of Cultural Exchange. At a news conference in Beijing late last month, Yi revealed that seven works by directors from the two countries will be staged in Beijing, Shanghai, Jinan of Shandong province and Hangzhou of Zhejiang province through June, with a total of 25 performances.
Besides Ulysses, two collaborations between British directors and Chinese actors were also staged. A Journey through James Joyce, which is directed by Arnold with multiple sources of Joyce's own writings, tells the literary giant's life in self-exile in Trieste. Beckett en Bref, which is directed by Gerry Mulgrew, presents for the first time a series of Irish avant-garde novelist Samuel Beckett (1906-1989) shorts on Chinese stage.