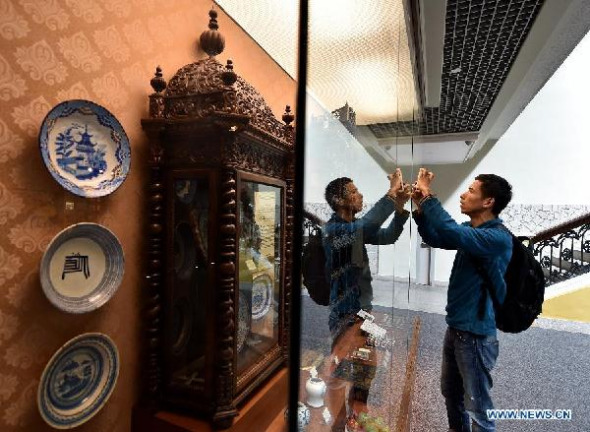 A visitor takes photos of exhibits through a window at the Macao Museum in South China's Macao, Dec 10, 2014. [Photo/Xinhua]
Macao's endeavor to preserve cultural heritage has paid off and the territory is becoming an open-air museum, according to Ung Vai Meng, president of the Cultural Affairs Bureau of the Macao Special Administrative Region (SAR).
In an interview with Xinhua ahead of the SAR's celebration of the 15th founding anniversary, Ung said the best thing ever happened to him was that he had the chance to witness Macao's significant changes from a declined city to a flourishing " cultural heritage capital."
Ung, 56, started his career as a historical building draftsman in 1983. He and his colleagues tried had hard to promote the concept of historical site preservation among the Macao people, but were often frustrated at the beginning as most people had no idea of cultural heritage preservation at that time.
"The residents were confused. They asked why such shabby houses should be protected from being torn down," Ung said.
Things began to change after Macao's return to China in 1999. The Macao people's cultural self-consciousness was raised gradually with the improvement of their livelihood amid fast economic growth.
To Ung and his colleagues, their cultural heritage preservation efforts culminated in July 2005 when the Historic Center of Macao was inscribed on the World Heritage List.
The Historic Center of Macao covers an area of 1.32 square kilometers, which accounts for 13 percent of the Macao Peninsula.
"Macao is a densely populated city with nearly 600,000 residents and so many cultural heritage sites and museums. Therefore, we came up with the idea of turning Macao into an open- air museum as a whole," Ung said.
The conception of "open-air museum" was proposed by Macao's Cultural Affairs Bureau around the year 2010, which was well- received by Macao residents, he added.
Together with the Tourist Office, the Cultural Affairs Bureau devised four walking tour routes -- "A Tour of Historical Trails," "A Tour of Nature and Creativity," "A Tour of East Meets West" and "A Tour of Arts and Culture," through which the essence of Macao's historical sites can be showcased to visitors.
Abundant traditional performances such as lion dance, Cantonese opera performance and Chinese martial arts are staged on the walking tour routes, adding charm to this "cultural heritage capital".
The Macao people have stepped on a development road of their own to deal with conflicts between preservation and development, Ung said, adding "There is much scope of continued perfection of the open-air museum program."
Macao, covering a total area of more than 30 square kilometers, has more than 20 museums, which Ung said manifests a "very high" density in the world.
Till now, Macao's museums have established close connection with museums in the Chinese mainland and overseas. Since 1999, The Macao Museum of Art and China's Palace Museum has kept holding a joint exhibition every year. A great many of prestigious museums such as the Shanghai Museum and Nanjing Museum from the mainland, and the Louvre Museum and the Center Georges Pompidou of France also held exhibitions in Macao.
After years of hard work, Ung said he now rarely hears objections from local citizens against cultural heritage preservation as what happened thirty years ago, but their ideas and suggestions to promote the preservation programs.
"Macao is a very attractive city. For centuries, a great number of wonderful architectures, plazas and lanes have been left over during cultural interflow between the East and the West. If you are interested in what I said, I will take that as a driving force for our future work," Ung said.