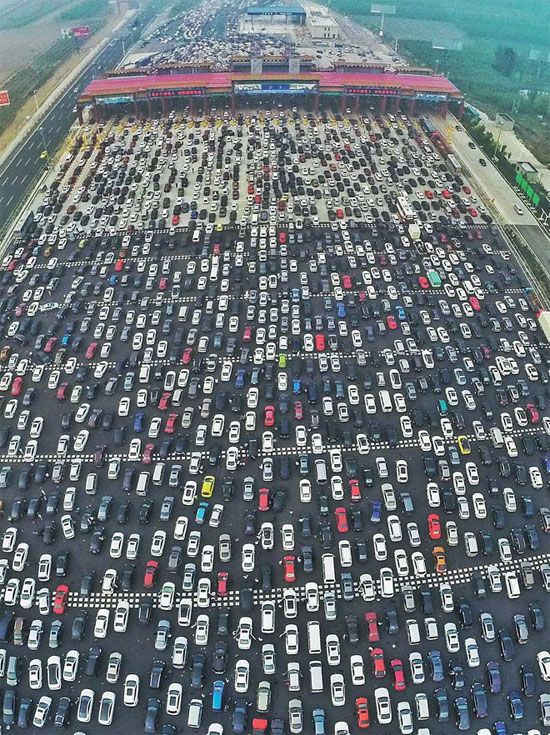 Heavy traffic at a highway toll station in Beijing last October. Local authorities are considering easing traffic problems through economic measures. Fu Ding / For China Daily
Beijing's traffic authorities have denied the city is China's "capital of congestion", after two map providers labeled it such in a recent report.
In an announcement on Sunday, Beijing Traffic Management Bureau described the report's findings as "imprecise and unscientific", adding that the capital's central city traffic index had dropped 10.3 percent to 5.2 in the past year.
The bureau said that new measures launched in February by the Beijing municipal government, such as optimized public transportation, new parking regulations and new infrastructure, had effectively tackled congestion.
As part of the measures, a real-name management system has been adopted that assigns traffic police to specific streets to patrol and look for illegal parking. The system has been tested in 130 streets in Beijing and police have issued more than 2 million tickets and towed 7,432 cars, an increase of 22 percent and 280 percent, respectively.
New fences and signs have been placed around the city to clarify no-parking zones and eliminate improper parking spaces.
Critical congestion hot spots are also being targeted by no less than 70 proposed projects, 20 of which could be effective citywide.
Officials will inspect 334 transport network interchanges to find ways to optimize travel time between methods of transportation and the city will introduce 6,000 bicycles near these interchanges, as well as building new designated lanes for buses and bikes, the bureau said.
Zhang Zhihao contributed to this story.