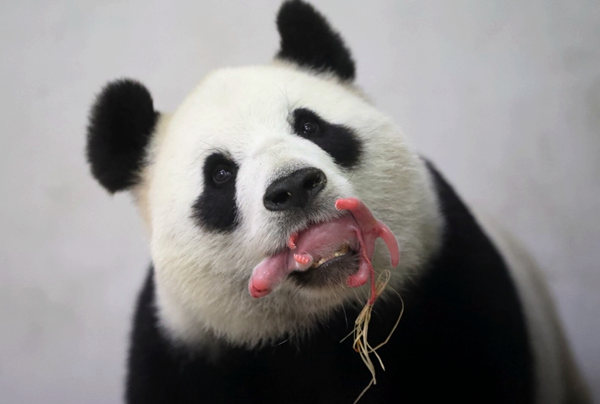 Giant panda Hao Hao holds her new cub in her mouth at Belgium's Pairi Daiza zoo.Provided to China Daily
It's still too risky to downgrade giant pandas from endangered to vulnerable on the International Union for Conservation of Nature's Red List of Threatened Species, said an expert from a major breeding center for the species in Sichuan province.
The IUCN completed an appraisal of the number of pandas and their habitats a year ago. A well-informed source recently told the South China Morning Post that the organization is considering downgrading the giant panda's status.
The IUCN would only say that an appraisal is underway and the results have not been released yet.
Zhang Hemin, chief of the China Conservation and Research Center for the Giant Panda in Wenchuan county, Sichuan, said such a downgrading would be detrimental to panda conservation.
Pandas survive solely along the eastern edge of the Qinghai-Tibet Plateau in six mountain ranges, five of which are in Sichuan. Their habitat, which totals about 23,050 square kilometers, is very vulnerable, since Sichuan is prone to earthquakes.
"In the Wenchuan earthquake in 2008, 6 percent of the panda habitat in Sichuan was lost," said Zhang, a panda expert who has been devoted to panda research and conservation for 33 years.
The number of giant pandas in the wild and in captivity has increased over the past decade.