Editor's note: China Daily is running a series of articles on the South China Sea. Complied by our reporters Li Xiaokun, Zhang Yunbi and Liu Xiaoli, the articles cover a range of topics and provide a fascinating insight into what life is like. In these articles our reporters present the colorful and unique way of life on the islands, including Yongxing Island, which despite being no bigger than 280 football pitches hosts the Sansha City government.
Class act by teachers allows pupils to relish life and learning on the country's southernmost outpost of education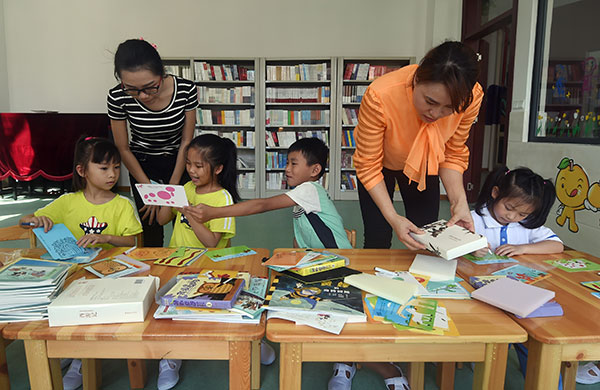 Teachers encourage students in a reading class at Yongxing School, Yongxing Island, where Sansha city is located. YANG GUANYU/XINHUA
Like many schools on the Chinese mainland, the walls of the country's southernmost school are decorated with children's paintings.
But the images reveal the unique way of life on Yongxing Island. Shells and marine creatures, from vibrantly colored fish to an octopus opening its inquisitive eyes, have pride of place in the paintings that provide a fascinating insight into life on the island.
"We have encouraged the students to be curious about the different forms of life here. It is a precious experience and the root of their love for the island," said Li Zanzong, headmaster of Yongxing School.
The newly built four-story school was opened just six months ago, but Li said it has adopted the most advanced educational methods in Hainan province.
"I'm confident of raising the quality of education here to the highest level," said Li, 36. Li and the school's six teachers, all graduates of a famous Hainan teacher training college, volunteered for half-year terms.
Tang Hualing, one of the teachers, is Li's wife. In February, the couple brought their 5-year-old son here at the start of a new semester.
"I came when I learned the island had opened its first school. Children here need education. We are willing to stay here as long as we are needed," Tang said.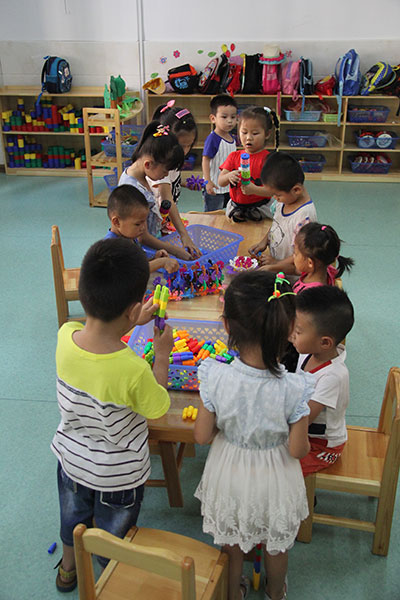 Children in a kindergarten prepare to get creative with toys. ZHANG YUNBI/CHINA DAILY
They carefully prepared for enrollment upon arrival. But on the morning of the first day their son was the only pupil.
"The parents were very cautious, just watching. We talked a lot with them about the school's plans," Li said. On that afternoon, 18 pupils arrived.
Three months on, the school has 29 students, mainly the children of fishermen. It has three kindergarten classes and three primary school classes.
"At first the pupils were very shy, and many of them cannot speak Mandarin," said Huang Haiwei, an English teacher.
"Now I'm happy to hear them say 'hello' to me on their own initiative every morning," Huang, 26, said.
The school requires no fees and all the pupils are provided with free food, bags and uniforms, thanks to the local government. Li said they are also considering issuing a scholarship of 10,000 yuan ($1,500) for every newly enrolled pupil.
The school is also planning to serve adults on the island. Li said that in the future soldiers will be able to avail themselves of diploma courses through long-distance education. Fishermen will also be instructed on modern fishing and breeding techniques.
Lin Li, a cleaner working for the Sansha government, said her daughters have been more active since going to the school. "And most importantly, now I can take them with me, instead of leaving them in my hometown."