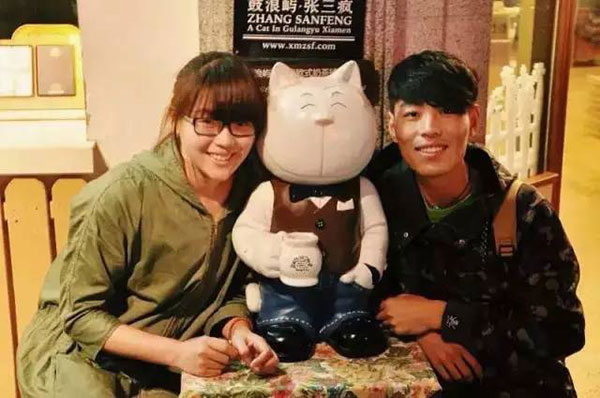 Ji Yuting (L) and He Tao. [Photo/WeChat]
A woman, born in the 1990s, and a man, born in 1989, met and fell in love during a hiking trip in Tibet. To celebrate their marriage, they both quit their jobs and embarked on a 365-day tour around China to have a really special wedding, during which they plan to don traditional costumes of all China's 56 ethnic groups.
Ji Yuting and her husband He Tao quit their jobs in Southwest China's Chongqing and began the trip on Sept 25 after getting married in August.
Their wedding marathon, during which they will hitchhike and walk on foot, started from Chongqing and now includes wedding photos taken in 19 traditional costumes of local cultures along the way, including those from Mongol, Hezhe, Bao'an, Evenki and Oroqen ethnic groups.
In addition to taking photos in local ethic costumes they borrowed on the way, they also brought Western-style wedding gowns and suits with them to take photos along the way.
After first meeting on a holiday trip, their dream became an epic marriage ceremony on the road. "We got to know each other for the first time on a trip to Tibet," said the bride. "When we decided to get married, we wanted to step once more into a journey, this time to commemorate the nice people and events in the process of acquaintance, then love."
"We want to spend a whole year celebrating our wedding and learn more about traditional cultures," Ji added.
They have established a public WeChat account to share their experiences while popularizing ethnic cultures and China's ancient civilization.
Their journey continues.