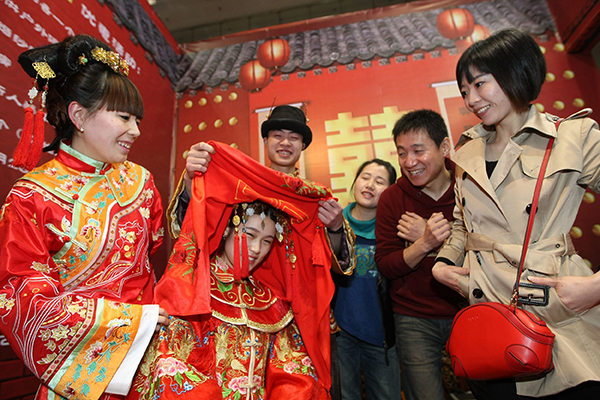 Business promotion staff dress in Chinese wedding clothes to promote folk wedding supplies during a recent wedding fair in Chongqing. [Photo provided to China Daily]
The fashion of hand-embroidered special-occasion dresses, like traditional Chinese gowns like Qipao and Guapao, is having a sort of revival in the China market, thanks to firms such as Tengxun Bridal and, in a sense, the Chinese first lady.
Lin Shuang, 35 years old, founded the Tengxun Bridal studio in 2009 after quitting her job with a major State-owned trading company in Beijing.
She grew up in the hutongs of Wangfujing area in Beijing. Her childhood extra-curricular activities included traditional Chinese drawing, calligraphy and traditional musical instruments.
When she took the plunge into the traditional Chinese fashion business, it was not considered a good move. Back then, fashion was not seen as an occupation with a bright future.
But Lin, a college graduate who majored in law, sensed business potential in the segment when her quest for a stunning Qipao for her soon-to-wed sister turned into a never-ending search.
A Qipao, a traditional form-fitting dress, consists of three layers of sleeves embroidered with gold threads of peony and a skirt with eight gold threads phoenix. Up to 400 hours over six months could go in to the making of a Qipao as intricate, painstaking sewing and embroidery work is needed.
"In the run-up to her wedding, my sister and I set out to buy a good-quality but affordable Qipao," said Lin. "But our search was in vain. We were very disappointed with the rough fabrics used."
So, Lin started to design a Qipao herself. She asked an established tailor whom her family had known for a long time to make one based on her design sketches.
The Qipao proved a massive hit. Everyone at the wedding raved about it. That encouraged Lin to convert a seemingly one-off exercise into a business.
Now, Lin's studio has grown into one of the largest high-end traditional Chinese wedding gown and clothing store in Beijing.
It features products from the bride's head-covering to traditional Chinese dragon and phoenix gowns, Qipao and Chinese shoes. On average, the store serves more than 200 newly-weds per year.
That's a far cry from the time when traditional Chinese wedding gowns were not such a hot pursuit for the newly-weds. Young Chinese were heavily influenced by Western styles then.