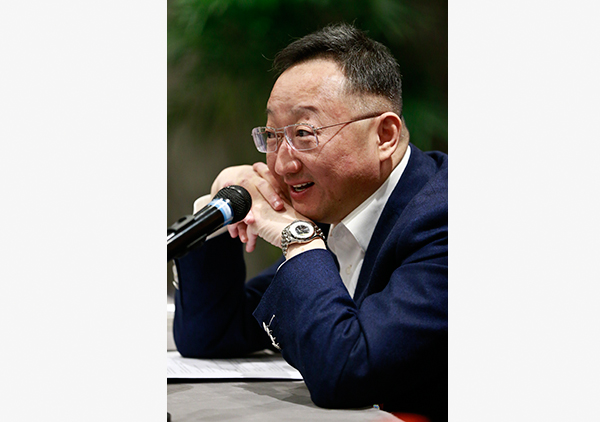 Yuan Yafei, founder and chairman of Sanpower Group. [Photo provided to China Daily]
Sanpower Group's head honcho Yuan Yafei's sights are firmly set on malls, healthcare and precision medicine
Yuan Yafei likes to break into English words during interviews.
But the 52-year-old business tycoon started to learn English only three years ago.
The founder and chairman of Sanpower Group was little known among the Western media until he snapped up 89 percent of British department store House of Fraser in 2014 in the biggest Chinese foreign retail deal in history.
In fact, Yuan's buying spree in the past two years also includes US fancy gadget retailer Brookstone Inc and Israel's largest private healthcare and homecare service provider Natali Seculife Holding Ltd.
"When I talked to Western business partners, many interpreters could not exactly translate what I meant. So I decided to learn English myself," Yuan said.
Of course, he had no time to attend language school. Instead, he asked his 10 assistants, all graduates from the world's top 10 universities, to give a daily briefing to him in English.
"I asked questions if I didn't understand. I also asked them what the right English expression was whenever I thought of anything," Yuan said.
"I'm not afraid of losing face. One can never be successful if he or she is worried about losing face."
After studying accounting at college, Yuan worked for the local government of Nanjing, Jiangsu province. Like in the case of many Chinese entrepreneurs, Yuan's path changed because of Deng Xiaoping-led economic reforms. "To live a different way of life", he quit his job in the government in 1993 and entered the computer business at the age of 30, building "DIY"-do-it-yourself, for the uninitiated-machines assembled from components sourced in Guangdong.
In less than two decades, Yuan rose quietly into one of the richest people in China. With estimated assets of 37 billion yuan, he was ranked last year as the 37th wealthiest person in the country in the Hurun Chinese rich list. He was ranked 92nd in 2013.
Sanpower's business covers retail, information services, medical and healthcare, finance and real estate industries. The Nanjing-based conglomerate has controlling stakes in five listed companies and more than 100 subsidiaries.
Explaining the logic behind his overseas purchases, he said: "Very simple. To serve the Chinese market.
"The Chinese market is huge enough. But we don't have enough experience. With the help of money, I can buy Western brands and technologies, which are exactly what Chinese companies lack."