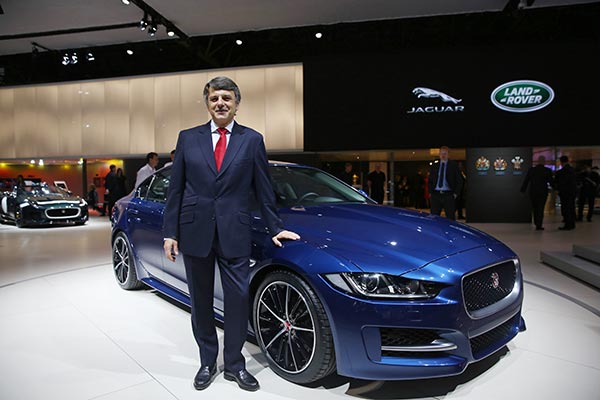 Ralf Speth, CEO of Jaguar Land Rover Plc, poses beside a Jaguar XE automobile at a recent auto expo.[Photo/Agencies]
Localization is key for Jaguar Land Rover to succeed in China, says
The United Kingdom's iconic heritage motoring brand Jaguar Land Rover is rapidly increasing sales in China, while constantly localizing its operations. 2016 will be Jaguar Land Rover's "Year of the Cat" with the unveiling of the first China-built Jaguar car, and the first aluminum body shop in China.
Ralf Speth, the chief executive of JLR, said he believes that localization is the key for the company's success in China. Its locally produced Range Rover Evoque is already on sale, soon to be followed by the Land Rover Discovery Sport unveiled at the recent Chengdu auto expo.
"We were delighted to announce that the first test bodies have started moving along our production line in Changshu, Jiangsu province. We have also made innovations in our steel body shop, where we have 306 specialist robots," Speth said.
"We are leading the way with new technologies that will be at the heart of automotive companies in the future-we will never stop innovating to keep delivering cars that our customers fall in love with."
In 2003, when Jaguar Land Rover first entered the Chinese market, it sold just 431 cars. Last year it sold 115,969 units, representing a 12.5 percent year-on-year increase.
This figure made China Jaguar Land Rover's single largest market, followed by the UK, Europe and the United States. Over the same period, the company sold 462,209 vehicles worldwide.
Globally, Jaguar and Land Rover vehicles are sold in 170 countries via a network of 19 national sales companies, and 2,640 franchise dealers.
Land Rover and Jaguar, two British brands dating back to 1948 and 1922, respectively, were brought together in 2008 when Tata Motors Ltd of India bought the two struggling brands from Ford Motor Co, which was facing financial problems in its US home market.
The Tata ownership has since given Jaguar Land Rover an international vision and direction, which also led to the establishment of a wholly-owned foreign enterprise in China in 2010.
The company now employs 3,000 at its Changshu plant, together with 570 already working within its sales team in Shanghai.
"The heart of our business is our people. It is the marriage of the technological skills and industry of our Chinese workforce with our British ingenuity and innovation that will enable our business to flourish," Speth said.
Recently, Speth spoke to China Daily about his vision and strategy and new opportunities for Jaguar Land Rover's China operations. Following are edited excerpts of the interview: