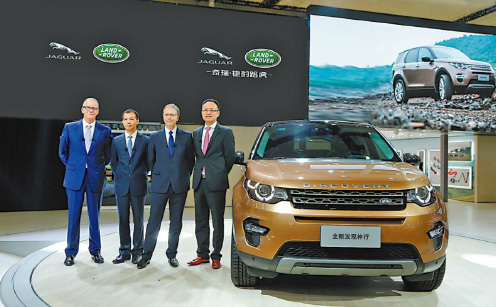 Mark Bishop, president of Jaguar Land Rover China and Chery Jaguar Land Rover's Integrated Marketing, sales and services (first from left); Zhu Guohua, deputy president of Chery Jaguar Land Rover; Chris Bryant, president of Chery Jaguar Land Rover; and James Hu, deputy president of Jaguar Land Rover China and Chery Jaguar Land Rover's Integrated Marketing, sales and services, attend the Chengdu Motor show. [Photo provided to China Daily]
Company's second locally built model, Discovery sport, shines at motor show in Chengdu
By bringing a powerful product lineup to this year's Chengdu Motor show, iconic British premium automaker Jaguar Land Rover underlined its confidence in the Chinese market and for its long-term success in the country.
Despite recent economic and market challenges that have sent shockwaves through the automobile industry, Jaguar Land Rover is pushing forward confidently with its China strategy, which is slated to roll out new products in the second half of the year.
"Products are Jaguar and Land Rover's top priority," said Mark Bishop, president of Jaguar Land Rover China and Chery Jaguar Land Rover's Integrated Marketing, sales and services, which is responsible for both imported and locally produced Jaguar and Land Rover vehicles.
The British marque captured the attention of show attendees in Chengdu with three major product highlights: the global reveal of official pictures and video clips of Jaguar's first performance SUV, the F-PACE; Jaguar XE's arrival in the Chinese market; and the unveiling of the locally produced land Rover Discovery Sport, which will hit the market later this year.
The Jaguar F-PACE, which represents its first entry into the competitive SUV market, will make its global debut at the 2015 Frankfurt Auto Show and enter the Chinese market in 2016. The model, which is the production version of the breakthrough C-X17 concept car revealed in 2013, combines the attributes of a sports car and an SUV and offers a blend of performance, design and practicality.
The new Jaguar XE was also on display at the motor show. It went on sale in China on Sept 1. According to the automaker, the model's responsive handling and stunning design will help it exceed all expectations of a luxury sports sedan.
The XE is the first compact executive car Jaguar Land Rover has produced since the 2009 X-Type and is the first of several Jaguar models to be built using Jaguar's new leading-edge modular aluminum architecture.
"The Jaguar XE is a really exciting car. It will be a true driver's car that looks great and the entry price makes it a very attainable Jaguar," said Phil Popham, group marketing director of Jaguar Land Rover.
The company's enhanced product portfolio also features its second locally produced model, the Land Rover Discovery Sport, which will be launched in the fourth quarter of this year.
The local Discovery Sport, which is being manufactured at the company's joint venture production facility in Changshu, Jiangsu province, is built in accordance with the brand's global design, engineering and manufacturing standards, fulfilling the brand's commitment to China.