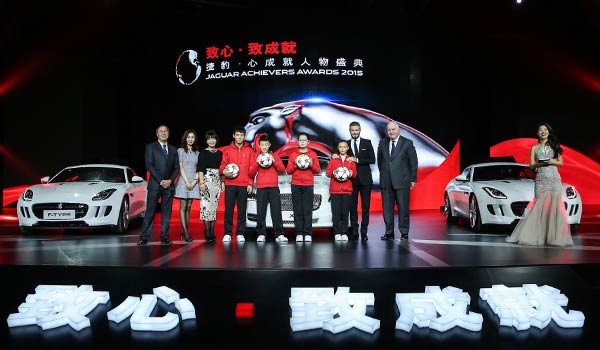 The Jaguar Achievers Awards 2015 was held on Jan 23, 2014, in Shanghai. [Photo / provided to China Daily]
On Friday, the inaugural Jaguar Achievers Awards 2015 was held to pay tribute to car owners who embrace the marque's "Never Stop Achieving" spirit to reap success in their own industries.
More than 1,000 people attended the brand show, featuring "Life Achievers" from different fields, including Jaguar China ambassador David Beckham, Sogo CEO Wang Xiaochuan, Geek Park CEO Zhang Peng, singers David Tao, Zhang Yadong, Li Jian, Ada Choi and Tia Ray, Miss China Zhang Zilin, and designer Alex Wang.
"Achievers are simply people with an inner desire for significant accomplishment, for mastering of skills and control, for reaching a higher standard of excellence. They are goal-oriented people, constantly seeking challenges and always striving to perform to the very best of their ability," said Bob Grace, regional president of Jaguar Land Rover Greater China, in his opening remarks.
"My biggest achievement in life is my family, my children. The thing I'm most proud of, outside my family, is the work I do for UNICEF. That's the work I have passion for, to give back what I have been given for the last 24 years as a football player," Beckham said.
"One of the reasons why I like to be part of a brand, a company like Jaguar, is not only because they make great cars but also the work they do behind the scenes, for different charities and their own foundations. They've got a lot of beliefs that I have-the history, the heritage and the work they do for the children, is the best thing about Jaguar as a company. So I'm very proud of to be part of that."
In Jaguar's salute to achievers from all walks of life, the company presented exceptional Jaguar owners with awards in five categories-Pioneer, Challenger, Game Changer, Loyalty and the Jaguar Driving Challenge Award. Winners included art designer Alan Chan, China film industry veteran Hu Qiming and Jaguar car collector Gao Lingfeng, who were chosen as ambassadors to illustrate how the "Never Stop Achieving" spirit guided them to turn their desires into reality.
The awards ceremony reached yet another height at the end when Beckham reunited with four teen fans he had met a year earlier, inspiring them to realize their dreams of playing football.
In May 2014, Jaguar Land Rover established the Children & Youth Dream Fund, engaging in corporate social responsibility programs under four pillars, Sports for All, Road Safety, Children & Youth Development and Social Care.
In October, through the Jaguar Sino-UK Football & Cultural Exchange program, 56 Chinese teenaged soccer enthusiasts went to the UK to experience the local football culture and meet Beckham.
In addition, the company initiated Jaguar Football Open Days in Beijing and Shanghai, as well as providing football pitches and free coaching to young people in both cities, to help them realize their sporting ambitions.