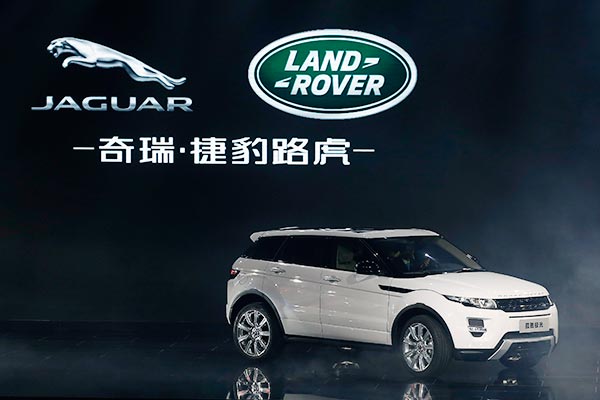 A Land Rover Evoque car is displayed during the Chery Jaguar Land Rover plant opening ceremony in Changshu, Jiangsu province, Oct 21, 2014. British luxury carmaker Jaguar Land Rover Ltd, owned by Indian conglomerate Tata group, expects its China sales to grow 20 percent this year, Greater China head Bob Grace said on Oct 21. [Photo / Agencies]
Efforts earn British carmaker good reputation in China
For premium automaker Jaguar Land Rover, success not only comes from business performance, but also recognition by society in general.
On Nov 18, the British company was awarded the China Reputation Award for 2015, based on the analysis of thousands of reports from major print, TV and online media.
Now in its second year, the China Reputation Award recognizes the corporate values, achievements and reputation of automotive manufacturers in China.
Reputation, in the context of this award, is based on research results related to all-round company success ranging from more conventional measures, such as management and growth, to corporate social responsibility initiatives, communication and community impact.
By evaluating all areas of an organization, the winning company meets the requirements as a respected member of its community producing products that are trusted by customers.
Rooted in China
Historic British vehicle manufacturer Jaguar Land Rover has made huge strides since entering the China market in 2010, with significant year-on-year sales growth and a flourishing reputation for caring for the community.
Company executives said the 2015 China Reputation Award marks another enormously successful year for the company and demonstrates the trust that Jaguar Land Rover has built up with customers and communities across the country.
The reputation has been driven by a holistic approach that involves focusing on its contribution to society and localization initiatives as well as business growth strategies.
Bob Grace, regional president of Jaguar Land Rover Greater China, and Anthea Wang, executive vice-president of Public Relations and Corporate Communications at Jaguar Land Rover China, jointly collected the award.
In his acceptance speech, Grace elaborated on the company's multifaceted approach.
"When we think about our corporate image at Jaguar Land Rover we focus on three things: our business performance, the Jaguar Land Rover community and more broadly the contribution we make to society around us," Grace said.
"We have achieved major milestones in each of these three aspects of our corporate identity in 2014."